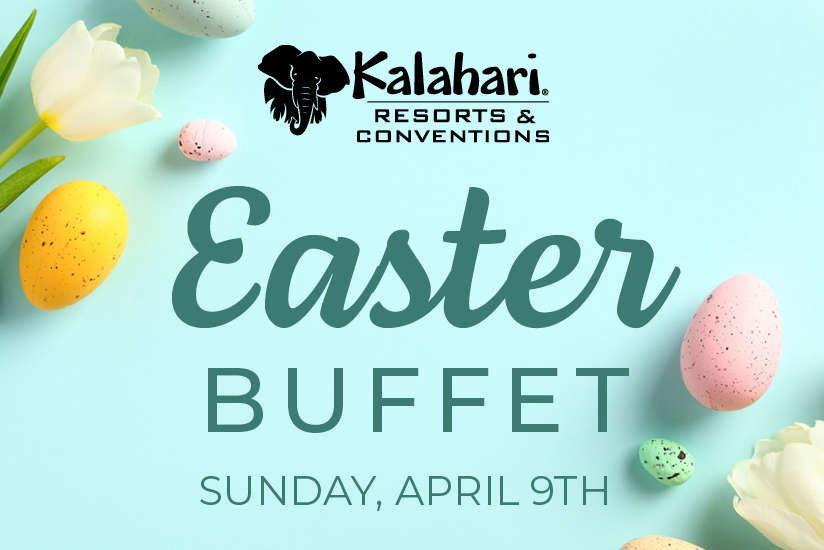 Easter Brunch Buffet
Our festive Easter brunch buffet is a treat-yourself experience that takes Kalahari's signature dining to new heights! Enjoy an array of sumptuous foods from our award-winning chefs, from prime rib, leg of lamb and pork loin, to delicious soups and breakfast featuring a pancake & omelet station.
Garlic & Rosemary Prime Rib with Bordelaise & Creamy Horseradish Sauce
Braised Leg of Lamb with Herb Jus
Coffee & Cocoa Rubbed Pork Loin with Redeye Gravy
Baked Haddock & Saffron Brodo
Herb Marinated Chicken Breast
Grilled Kielbasa & Peppers
Baked Mac & Cheese with Cornflake Crust
Sweet Crème Butter Mashed Potatoes
Parmesan & Herb Roasted Cauliflower with Golden Raisin Ensalada
Roasted Asparagus & Oven Roasted Tomatoes  
Jasmine Rice Pilaf with Fines Herb Compound Butter
Glazed Carrots (Spiced honey & brown sugar)
Loaded Potato Soup & Fresh Assortment of Breads & Spreads
Omelet Station
Eggs Benedict
Scrambled Eggs
Buttermilk Pancakes
Cinnamon Raisin French Toast & Syrup
Bacon & Sausage
Cheesy Hashbrown Casserole
Buttermilk Biscuits & Sausage Gravy
Salad Bar with Assorted Toppings & Assorted Dressings
Mixed Green Salad with Bleu Cheese & Brown Butter Walnut Vinaigrette
Roasted & Chilled Vegetable Display
(Hummus, Buttermilk Ranch, Smoked Salmon with Capers, Hard Boiled Eggs, Red Onion, & Lemon)
Traditional Shrimp Cocktail
Deviled Eggs
Cured Meats & Cheeses
Chicken Bites                     
Mac & Cheese
Buttered Corn
Pizza
M&M Pancakes
Rainbow Sprinkle Pancakes
Coconut Carrot Cake
Assorted Easter Cupcakes
Hazelnut Chocolate Parfait
Lemon Meringue Pie
New York Cheesecake
Caramel Apple Cheesecake
Warm Peach Cobbler with Cinnamon Cream Anglaise
Assorted Mini Shooters
Cream Pies
Macaroons
Tarts
Cookies
Brownies
Bananas Foster Station
Kalahari Chocolate Fountain with Marshmallow, Strawberries, Rice Krispy Treats, & Pretzel Rods
Ice Cream Sundae Bar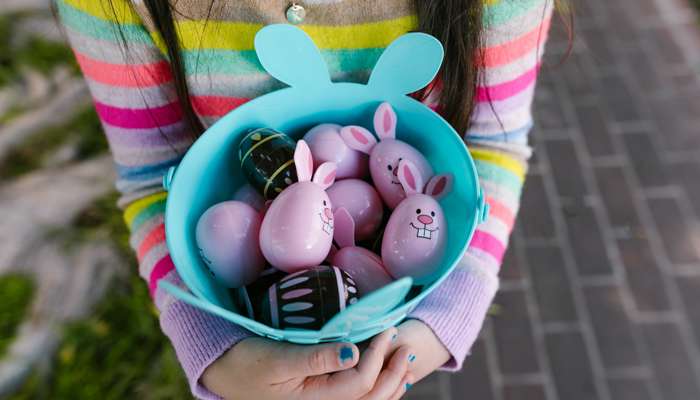 Easter Eggstravaganza
Resort guests are invited to our complimentary Easter Egg Hunt! Head to the Grand Hallway in the Convention Center and join us as we kick off our Easter eggstravaganza. Don't forget your baskets!
Time: 8:30am - 9:00am
Location: Grand Hallway in the Convention Center