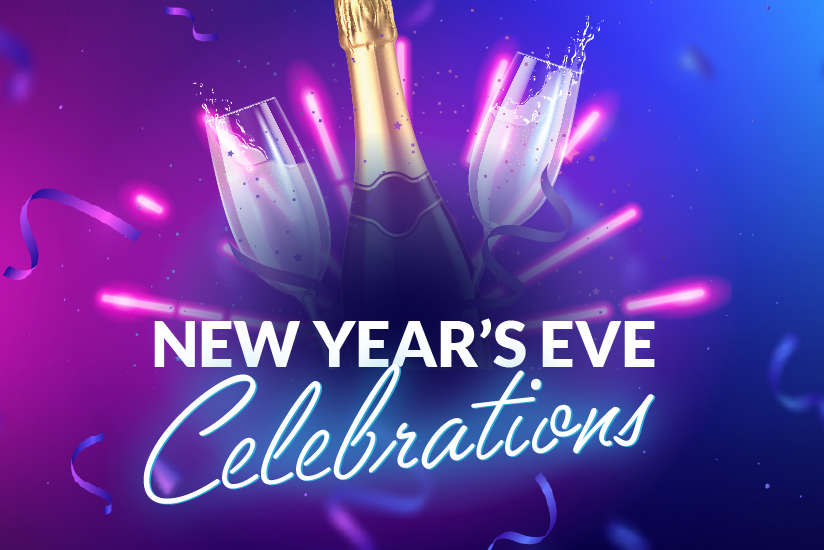 New Year's Eve Grand Buffet
Ring in the New Year at Kalahari Resorts & Conventions! Join us for our New Year's Eve Buffet, where you will enjoy all of your favorite holiday dishes. Plus, don't miss our dessert station featuring a wide array of sweet treats, sure to satisfy any sweet tooth!
Plus, New Year's Eve Buffet attendees get FREE admission to our New Year's Eve Glow Party!
Flexible dress code. Please no swimwear/coverups.
Herb Crusted Prime Rib with Creamy Horseradish, Red Wine, and Rosemary Au Jus
Spice-rubbed and Slow-roasted Pork Shoulder Studded with Rosemary and Garlic
Honey-glazed Salmon with a Winter Citrus Salsa
Baked Haddock with Roasted Tomato, Fennel, and Saffron Butter
Marinated Chicken Breast with Sautéed Garlic Spinach and Chive Soubise Sauce
Redwine Braised Beef Short Ribs with Roasted Cipollini's, Kielbasa, Sauerkraut, and Roasted Red Potato
Soup
Lobster Bisque with Tarragon Crème Fraiche
French Onion Soup with Croutons and Parmesan Cheese
Bread
Ciabatta, Potato Rolls, Brioche Rolls, French Rolls, Brioche Rolls, Parker House Rolls, Corn Muffins Gluten-free Biscuits, and Savory Cheddar Biscuits
Garlic and Herb Butter Mashed Potatoes
Bucatini Pasta with Sortino's Marinara and Parmesan Cheese
Potato Gratin
Asparagus with Lemon and Garlic Herb Butter
Roasted Tri-colored Carrots with Pine Nut Gremolata
Hoppin John Black-eyed Peas
Carolina Gold Rice with Bay Leaf and Butter
Southern-style Turnip Greens with Caramelized Onions and Smoked Bacon
Chilled Accents
Shrimp Cocktail with Cocktail Sauce, Lemon Wedges, and Saltine Crackers
Oysters on the ½ Shell
Citrus Marinated Chilled Mussels
Traditional Devilled Eggs
An Array of International and Domestic Cheeses
Cured Meats, Pickled Vegetables, Marinated Olives, Pesto, Green Goddess, and Preserves
Smoked Salmon with Chopped Eggs, Capers, Whipped Cream Cheese, Bagel Chips, Crostini's, and Pickled Red Onions
Cottage Cheese, Shredded Carrots, Sliced Mushrooms, Mandarin Oranges, Peaches, Julienned Peppers, Sliced Red Onions, Black Olives, Cheddar Cheese, Chopped Bacon, Peas, Hardboiled Eggs, Croutons, Cucumbers, Crispy Chick Peas, Potato Salad, Sundried Cranberries, Sunflower Seeds, Artichoke Hearts, Fruit Salad, Ranch, French, Cesar, and Italian Dressing

Roasted Cauliflower Salad with Chickpeas and Lemon Tahini Dressing

Cesar Salad Mason Jars with a Soft-boiled Egg, Croutons, and Shaved Parmesan
Cakes and Pies
Assorted Mini Pies
Mimosa Crème Brûlée
Sparkly Chocolate Mouse Cup
Divinity
Ice Cream Sunday & Donut Hole Flambé-Station: Vanilla Ice Cream, Chocolate Ice-cream, Assorted Donut Holes
Mini Assorted French Macaroons and Pastries
Chocolate Fountain Extravaganza:
Strawberry, Pineapple, Marshmallow, Pretzel, Donut Holes, Rice Krispies
Kalahari Cheese and Pepperoni Pizza
Mini Corn Dogs
Chicken Tenders with BBQ Sauce and Ketchup
Broccoli with Cheese Sauce
Buttered Corn
Mac & Cheese
Carrots and Ranch
Assorted Cookies, Jell-O Cups, Mini Cupcakes, and Brownies
*Menu items are subject to change.
**For those with food allergies, we offer an allergy free section that is free of gluten, dairy, soy, tree nuts, peanuts, egg and shellfish. If you have any allergy questions or concerns, a culinary member will be there to assist you.