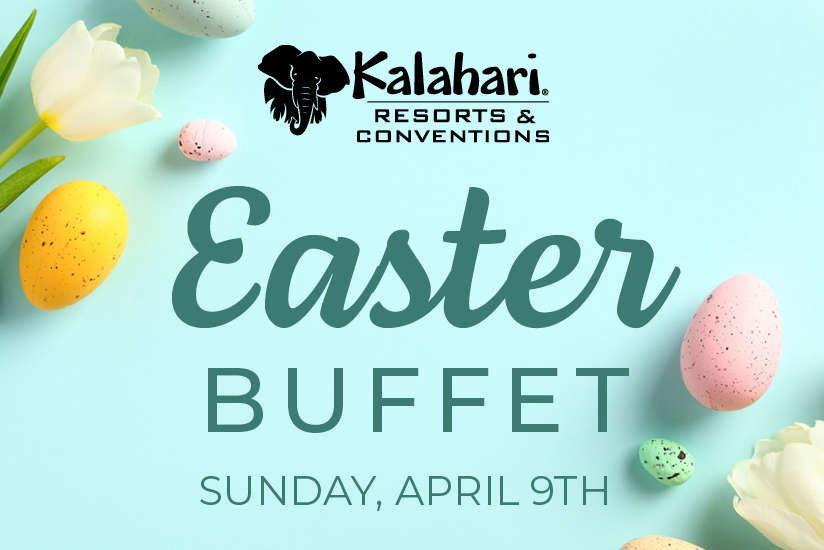 Easter Brunch Buffet
Our festive Easter brunch buffet is a treat-yourself experience that takes Kalahari's signature dining to new heights! Enjoy an array of sumptuous foods from our award-winning chefs, from roast beef ribeye, glazed ham and fresh baked breads, to delicious soups and breakfast featuring a waffle & omelet bar.
Carving
Honey Glazed Steamship Ham
Herb Encrusted Prime Rib
Salmon en Croûte
Crème Fraiche
Enhancements
Tri-color Tortellini with Alfredo Sauce
Baked Cod with Lemon Dill Caper Sauce
Farm Fresh Chicken Breast with Spring Herb Veloute Sauce
Roasted Asparagus with Blistered Tomato & Balsamic Glaze
Orange Glazed Baby Carrots
Rice Pilaf
Roasted Garlic & Parmesan Mashed Potatoes
Ham, Sausage, Bacon, Cheese, Mushrooms, Onions, Tomatoes, Jalapenos, Peppers, Spinach
Eggs Benedict
Scrambled Eggs
Kielbasa
Belgian Waffles with Assorted Syrups & Toppings
Breakfast Potatoes with Onions & Peppers
Charcuterie
Meat & Cheese Boards with Mortadella, Prosciutto, Sopressata, Havarti Dill, Gorgonzola & NY Aged Cheddar Cheese
Fresh Honeycomb Display
Deviled Eggs
Seafood
Shrimp Cocktail, Lemons, Cocktail Sauce
Asian-style Mussel Salad
Smoked Salmon & Accoutrements
Mixed Greens, Romaine Lettuce, Cucumbers, Shredded Carrot, Grape Tomatoes, Black Olives, Diced Beets, Shredded Cheddar, Parmesan Cheese, Croutons, Assorted Dressings
Mushroom Barley
Seafood Bisque
Corn Bread Muffins, Assorted Artesian Rolls, Croissant Rolls, French Bread, Focaccia Bread, Assorted Butters & Dipping Oils   
Chicken Tenders
Buttered Corn
Mac & cheese
Cheese & Pepperoni Pizza
Broccoli with Cheese Sauce
Hummingbird Cake with Cream Cheese Frosting
Caramel Apple Upside Down Cake
Lemon Strawberry Tarts
Mini Coconut Custard Pies
Assorted Homemade Marshmallows
Dark Chocolate Dulce de Leche Panna Cotta
Vanilla Bean Crème Brûlée
Dirt Pudding Cups
Assorted Cookies
Chocolate & Vanilla Cupcakes
M&M Brownies
Egg Bread
Assorted Mini Bridor Danish
Hot Cross Buns
Nut Roll (Kolaches)
Herb & Cheddar Biscuits, & Plain Biscuits
Assorted Rolls
Butter Boards (Herb & Garlic, Maple Bacon, Salted, Plain)
Chocolate Egg Displays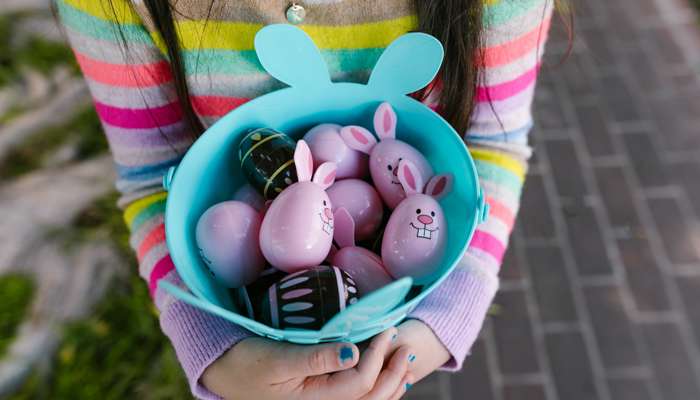 Easter Egg Hunt
Resort guests are invited to our complimentary Easter Egg Hunt! Head to the Big Game Room Arcade and join us as we kick off our Easter eggstravaganza. Don't forget your baskets!
Time: 8AM - 9AM
Location: Big Game Room Arcade
*Free admission; Resort guests only