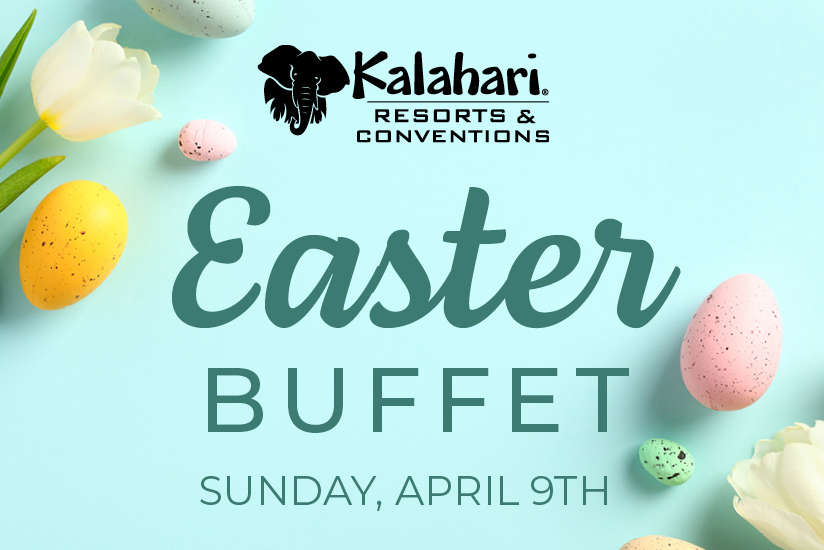 Easter Brunch Buffet
Our festive Easter brunch buffet is a treat-yourself experience that takes Kalahari's signature dining to new heights! Enjoy an array of sumptuous foods from our award-winning chefs, from roast beef ribeye, glazed ham and fresh baked breads, to delicious soups and breakfast featuring a waffle & omelet bar.
Hand Carved Whole Roasted Traditional Turkey
Slow Roasted Herb & Sea Salt Rubbed Long Bone Beef Ribeye
Slow Roasted Glazed Bone-In Ham
Green Bean Casserole
Honey Glazed Carrots
Lemon Confit Asparagus
Broccolini with Piperade
Olive Oil Poached Marbled Potatoes
Cheddar and Chive Yukon Mas
Omelet Bar
Egg & Egg White
Tomato, Onion, Bell Pepper, Spinach, Mushroom, Jalapeno, Cheddar, Feta, Blue Cheese, Crispy Garlic, Salsa, Salsa Verde, Black Beans, Tortilla Strips
Applewood Smoked Bacon, Bacon, Sausage, Pork Sausage Links, Chorizo, Brisket, Ham
Country Potato Hash, French Toast & Texas Toast
Waffle Bar
Belgium Waffles, Whipped Cream, Macerated Berries, Strawberries, Banana, Warm Syrup & Maple Syrup
Assorted Nuts, House Made Granola, Sprinkles
Nutella, Chocolate Sauce, Strawberry Sauce, Fruit Compotes, Chocolate Chips, Peanut Butter Chips, White Chocolate Chips
And More
Assorted Seasonal & Whole Cut Fruits
Assorted Breakfast Pastries & Sweet Breads with Assorted Preserves & Cream Cheeses
Assorted Cereals
Buttermilk Biscuits with Sawmill Gravy
Lorraine Quiche
Egg, Bacon, Caramelized Onion, Cheddar, Scallion
Monte Cristo Sandwich
Ham
Bechamel
Crisp Romaine Lettuce, Baby Spinach, & Mixed Winter Greens
Late Harvest Tomato, Field Cucumber, Shaved Radish, Black Beans, Marinated Olives, Marinated Artichoke Hearts, Garbanzo Beans, Pickled Red Onion, Jalapeños, Pickled Beets, Sweet Corn
Bacon, Hard Boiled Egg, Crisp Tortillas, Herb Croutons, Shredded Cheddar, Blue Cheese Crumbles, Local Feta Cheese, Sun-Dried Cranberries, Candied Pecans, Sunflower Seeds, Pepitas
Soup
Loaded Baked Potato Soup, Sour Cream, Shredded Cheddar, Bacon Bits & Green Onions
Minestrone, Tomato Broth with Roasted Vegetables, Red beans, Kale
Bread
Gluten-Free Corn Bread Poppers, French Baguette, Sourdough, House-made Focaccia, Roasted Garlic & Asiago Bread, Bread Sticks, Bread Rolls, Sweet Creamery Butter, Olive Oil, Olive Tapenade, Parmesan Cheese & Chive Butter
Shrimp Cocktail, Oysters, Green-Lip Mussels
Cold Hardwood-Smoked Salmon
Hard Boiled Egg Yolks & Whites
Crisp Mini Bagel Chips
Cream Cheese
Pickled Red Onion, Non-Pareil Capers, Crispy Onion Strings
Local Charcuterie
Proscuitto Di Parma, Mortadella, Soppressata, Coppa, Salumi, Deviled Eggs, Roasted Sweet Peppers, Marinated Artichokes Hearts, Marinated Olives, Pepperoncini, Grainy Mustard, Dijon Mustard
Artisinal Cheese
Chef's Favorite American, French, Spanish, & German Style Cheese
Texas Pecans, Grenoble Walnuts, Marcona Almonds, Hazelnuts
Grapes, Membrillo, Baked Brie With Cranberry Compote, Local Honey
Grilled Crostini, Grain Crackers, Wheat Crackers
Cage-Free Scrambled Eggs
Pork Sausage Links
Hash Brown Patties & Tater Tots
Crisp Chicken Tenders
Kalahari Pizza By-The-Slice, Pepperoni & Cheese Pizza
Fresh Garden Vegetables & Butter Corn Kernels, Steamed Broccoli & Cheese Sauce
Carrot Sticks, Celery Sticks, Cherry Tomatoes & Ranch Dip
Mac-N-Cheese
Creamy Cheddar Sauce, Shredded Cheddar
Mini Corn Dogs
Mini Cookies
Brownies
Pecan Dessert Bar
Pumpkin Pie Bites
Petite Cupcakes
Jell-O Fun Bar
Whipped Cream, Crushed Oreos, Gummy Bears, M&Ms, Mini Marshmallows, Sprinkles, Sweetened Coconut, Nerds, Banana Chips
French Macarons, Pate au Fruits, Key Lime Bars, Strawberry Pannacotta, Petite Cupcakes, Fresh Fruit Tart, Opera Cake, Blueberry Opera, Cheesecake, Carrot Cake, Pate a Choux
Bananas Foster Station with Vanilla Ice Cream
Crème Brulée Station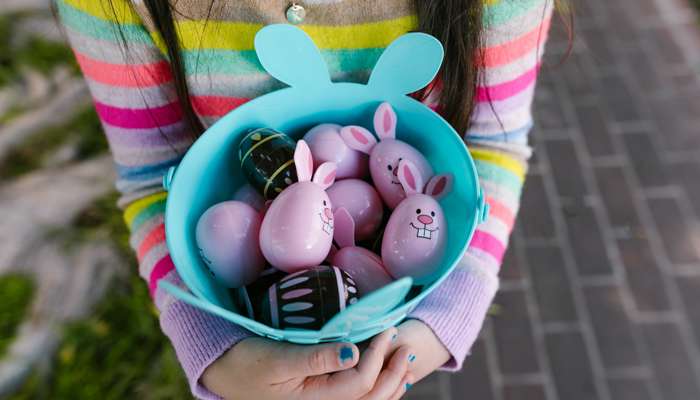 Easter Egg Hunt
Resort guests are invited to our complimentary Easter Egg Hunt! Head to the Event Barn and join us as we kick off our Easter eggstravaganza. Don't forget your baskets!
Location: Event Barn.
Egg Hunt Times: 10:30am & 1:30pm sharp! You won't want to be late!
We will have two age ranges per start time: a group for ages 6 and under, and a group for ages 7 - 12.
This event is open to our overnight resort and Easter Brunch Buffet guests.