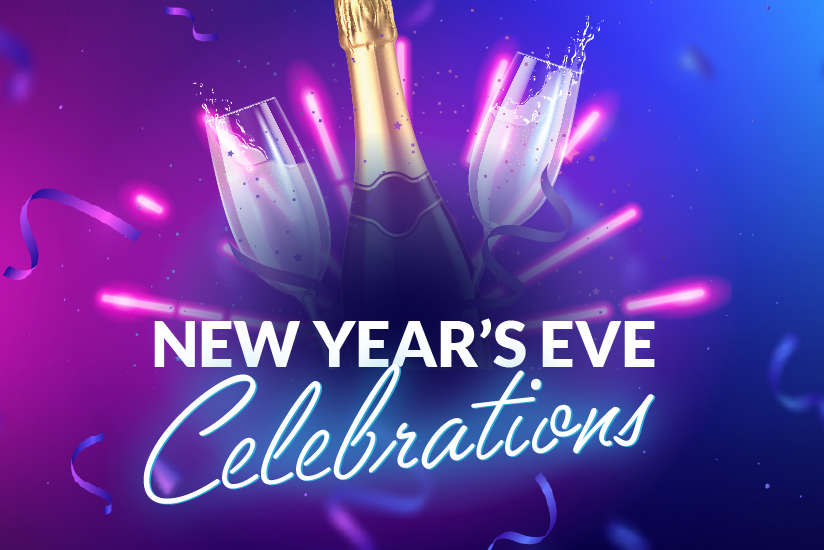 New Year's Eve Grand Buffet
Ring in the New Year at Kalahari Resorts & Conventions! Join us for our New Year's Eve Buffet, where you will enjoy all of your favorite holiday dishes. Plus, don't miss our dessert station featuring a wide array of sweet treats, sure to satisfy any sweet tooth!
Plus, New Year's Eve Buffet attendees get FREE admission to our New Year's Eve Glow Party!
Flexible dress code. Please no swimwear/coverups.
Sushi (Served with Wasabi, Pickled Ginger, GF and Regular Soy Sauces):
California Roll, Spicy Tuna Roll, Salmon & Avocado Roll
Cold Appetizers
"Lobster Roll" Canape with Buttered Black-Pepper Brioche
Smoked Whitefish Dip
Deviled Eggs (Candied Bacon & Scallions, Traditional)
Poached Pear & Brie Crostini with Toasted Walnuts and Balsamic Vinegar
Hot Appetizers
Stuffed Mushrooms with WBP Green Chili & Artichoke Dip
Baked Mussels with Parmesan & Herb Breadcrumbs
Meatballs with Crumbled Goat Cheese & Sambuca
Seafood
Seafood Served with Lemons, Saltine Crackers & Mini Tabascos
Oysters On the Half Shell with Champagne Mignonette & Caviar Toppers
Poached Shrimp Cocktail with Bloody Mary Cocktail Sauce
Salads
Full Farmers Market Salad Bar
Wisconsin Cheese and Sausage Grazing Table
Carving
Herb & Salt Crusted Prime Rib - Served with Au Jus, Creamy Horseradish, Sautéed Mushrooms & Onions
Roasted Leg of Lamb with Mint Chimichurri
Entrées
Thyme Roasted Chicken Breast with Foraged Mushroom Ragu
Roasted Pork Loin with Cranberry & Apple Stuffing
Parmesan-Crusted Baked Haddock with Charred Tomato & Caper Insalata, and Saffron Beurre Blanc
Flank Steak with Bone Marrow Bordelaise & Olive Gremolata
Roasted Salmon with Dill Cream, Cranberry, and Almond Tapenade
Black Truffle Carbonara with Pancetta Cream, Peas, Parmesan, Black Truffle Shavings
Artesian Bread Display: D/C Bread, Focaccia, Thyme & Porcini Bread, Jalapeno & Corn Bread, Ham & Cheddar Quick Bread, Served with Assorted Butters
Black Eyed Pea & Ham Hock Soup
Garlic Mashed Potatoes
Cheesy Cauliflower Gratin
Broccolini with Wisconsin Beer Cheese Sauce
Crispy Fried Brussels Sprouts with Pancetta Vinaigrette
Roasted Root Vegetables with Brown Butter & Honey Vinaigrette
Gruyere Baked Mac & Cheese
Herb Buttered Corn
Chicken Tenders served with Ketchup, BBQ Sauce, Honey Mustard & Ranch
Macaroni & Cheese
Mini Corn Dogs
Kalahari Cheese & Pepperoni Pizzas
Buttered Corn
Baby Carrots
Childrens' Desserts
Assorted Jell-O
Chocolate Pudding with Toppings
Brownies
Cookies
Mini NYE Cupcakes
Vegetarian Rice Pilaf
Rosemary Roasted New Potatoes
Roasted Mushrooms & Garlic
Quinoa Tabbouleh
Broiled Tomatoes with Chimichurri
Assortment of Allergy & Vegan Friendly Breads
Assortment of Allergy Friendly Desserts
Including, but not limited to the following:
Sparkly Chocolate Mousse Cups
Bread Pudding with Tennessee Whiskey Sauce
Assorted Macaroons
Chocolate Tiramisu
Mini Pecan Pies
Chocolate Truffles Torte
Mimosa Crème Brule
Cheesecake Bar with a Variety of Toppings & Sauces
Made To Order Beignets
Kalahari Chocolate Fountain
Warmed Apple Cobbler
*Menu items are subject to change.
**For those with food allergies, we offer an allergy free section that is free of gluten, dairy, soy, tree nuts, peanuts, egg and shellfish. If you have any allergy questions or concerns, a culinary member will be there to assist you.