Where Meetings Come to Life
Located in Pocono Mountains, Pennsylvania, Sandusky, Ohio, Wisconsin Dells, Wisconsin and Round Rock, Texas, Kalahari Resorts & Conventions welcomes the opportunity to host your group for your next event. As a full-service destination, Kalahari Resorts is home to family-friendly amenities and activities along with upscale accommodations and plenty of meeting and convention space to fit your group's needs.  
From a large scale event to teambuilding sessions and plenty of on-site adventures including America's largest indoor waterpark, Kalahari Resorts & Conventions can bring your meeting to life.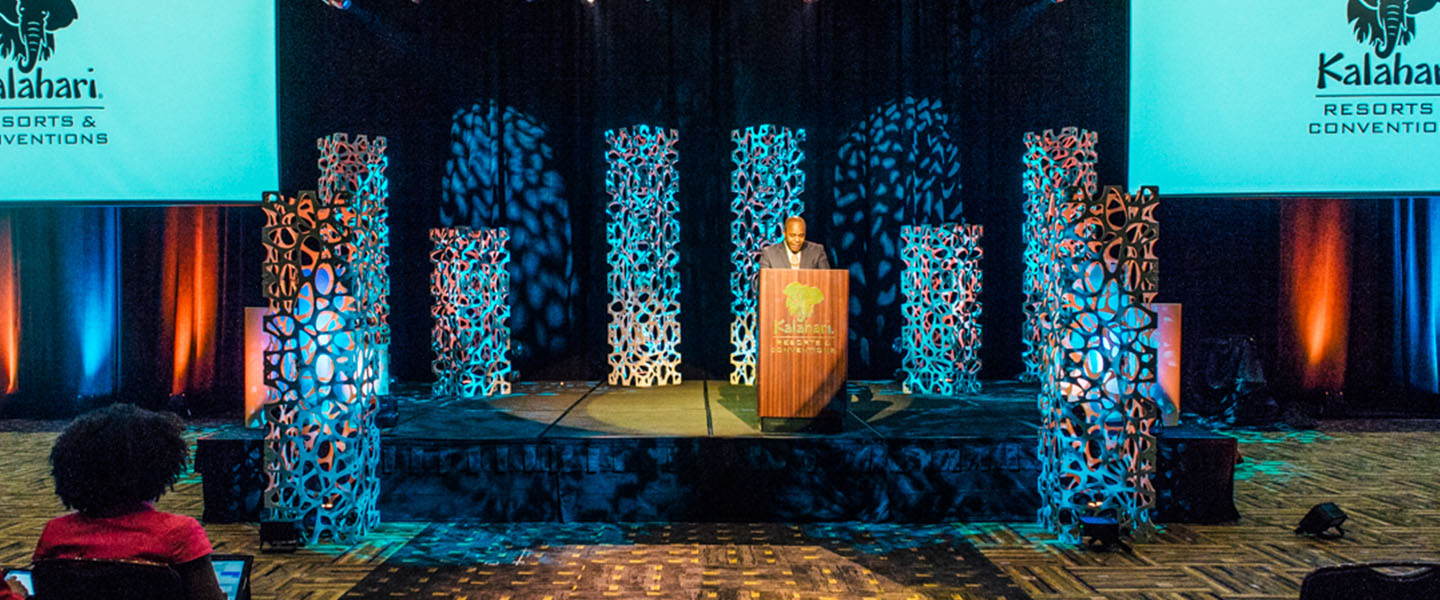 Explore Kalahari's Meeting Spaces
Kalahari Resorts & Conventions has four different resorts in the United States, giving you plenty of options to choose the perfect setting for your group—all centered around highly personalized, first-class service. Each location is close to major cities, yet still far enough for attendees to fully immerse and enjoy the unique convention experience.
With everything housed under one roof, attendees can choose from an array of accommodation types - perfect for your group. Complimentary parking and free Wi-Fi with 10GB capacity is included. When the day's work begins, convene in over 200,000 square feet of customized, flexible meeting space at the resorts' convention centers. The convention centers have high-definition, audiovisual equipment, advanced lighting controls and upgraded 10-hour ergonomic chairs.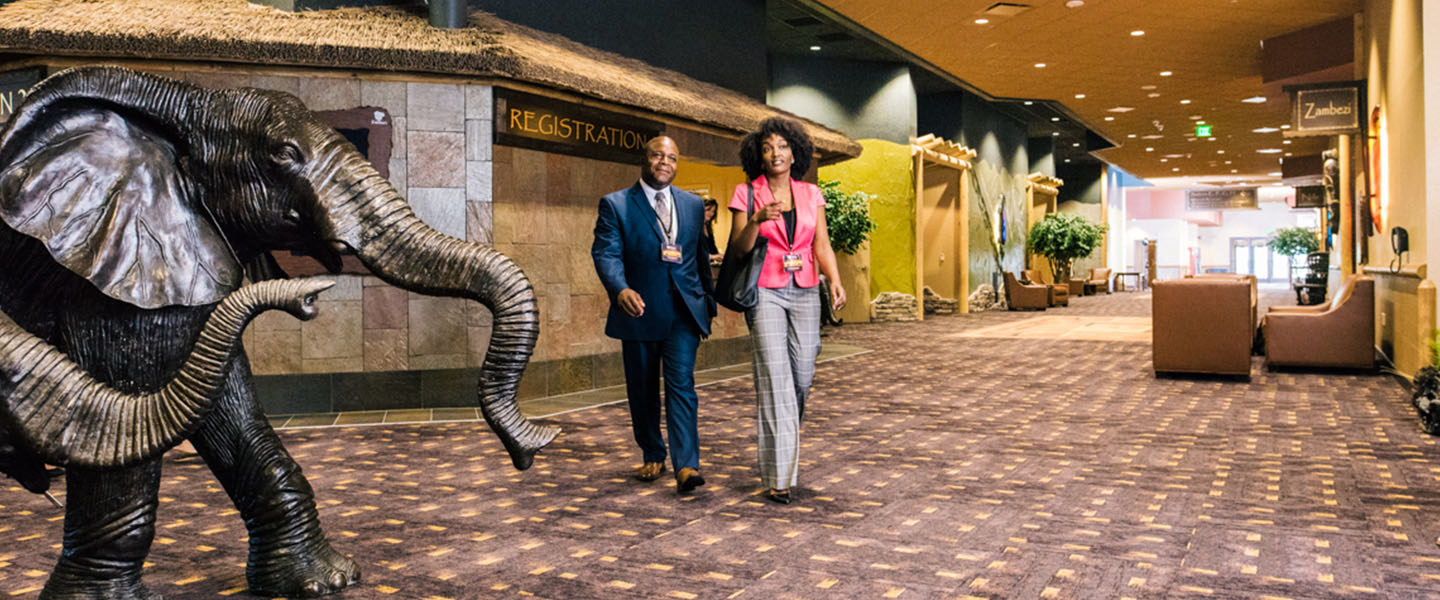 Have an Adventure at Kalahari Resorts
When the meetings have wrapped for the day, get ready for an adventure as Kalahari Resorts & Conventions is home to America's largest indoor waterpark. Bring your family along for some pre- or post-conference thrills, or let the kid in you play and splash around when you go boogie boarding on one of two FlowRiders as you test your luck on this 5-foot wave simulator.
Waterpark passes are included for all registered guests so they can experience the Crocodile Cove activity pool and Coral Cove for kids and the thrilling Cheetah Race water slides and Swahili Swirl! Need a break from all the action? Treat yourself and your attendees to a private, indoor cabana that features chaise lounges and a refrigerator.
For more adventures, challenge your colleagues at The Big Game Room that has over 100,000 square feet of simulation games, arcade games and lots of action. Choose from mini bowling, blacklight mini golf, laser tag or the 7-D motion theater. Once you're done playing, cash in your tickets for prizes.
Go for a ride on the six-story Ferris wheel or go for a spin on the African-themed carousel. For an even bigger thrill, combine the digital and real worlds in the resort's own virtual reality experience in a free-roaming, open-air venue in The Big Game Room.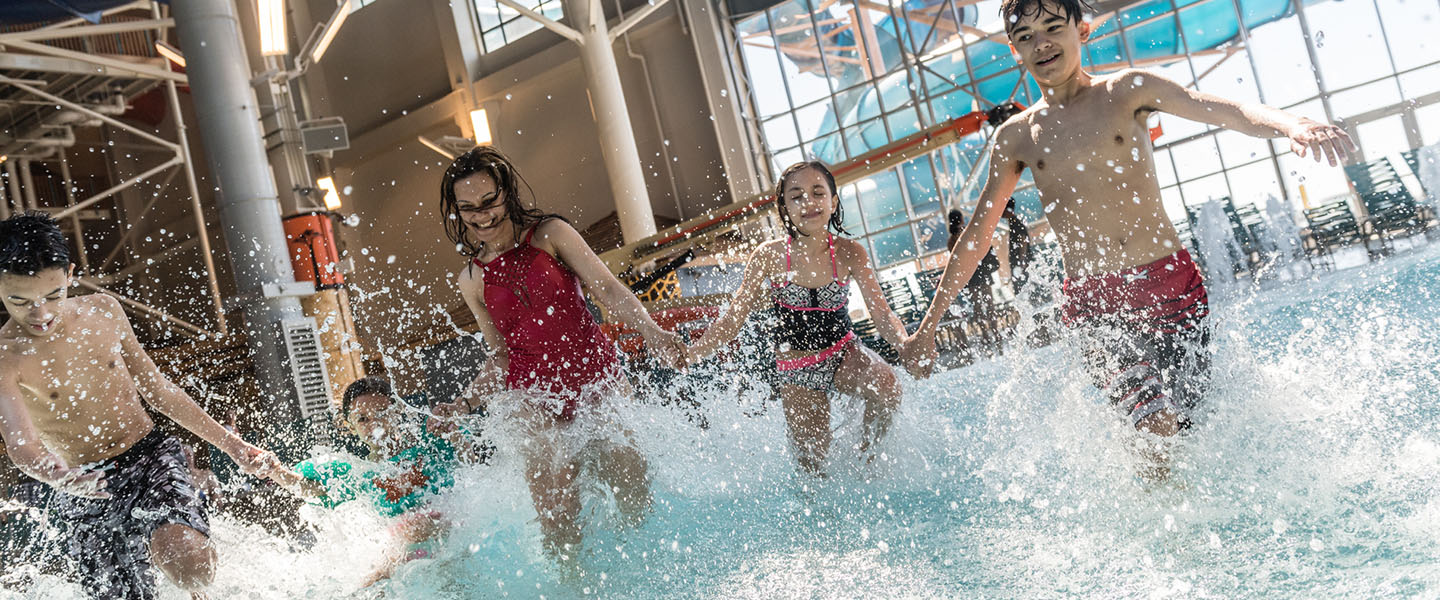 Experience Numerous Dining and Shopping Options
At the Double Cut Charcoal Grill & Liquor Bar in Wisconsin Dells and Pocono Mountains, your group will love the contemporary steakhouse dining experience. Enjoy a menu featuring a variety of selections such as steaks, seafood, chicken and vegetables cooked over hot coals.
In Wisconsin, visit the Wisconsin Brew Pub for happy hour or signature cheese curds and enjoy select Wisconsin craft brews. At Felix's Bar, in Pennsylvania, meet up with colleagues and enjoy a relaxing evening after a day of meetings.
For more casual eats, dine at the Great Karoo Marketplace Buffet for breakfast, lunch or dinner. The restaurant has a variety of dining options for all tastes and budgets. From catered events and business meetings to grabbing a bite to eat in between sessions— you'll enjoy exquisite and unique meals at Kalahari Resorts.
Forget your bathing suit at home? Don't worry! The Indigo Swimwear & Accessories shop can help you get ready for a day of fun by the pool. At the Kalahari Outpost, shop for souvenirs to remember your visit or purchase items you may have forgotten at home. At Safari Clothing Company and Zakanaka Kids, pick up an outfit or a new stuffed animal for your kids—the perfect way to introduce them to the fun of Kalahari Resorts.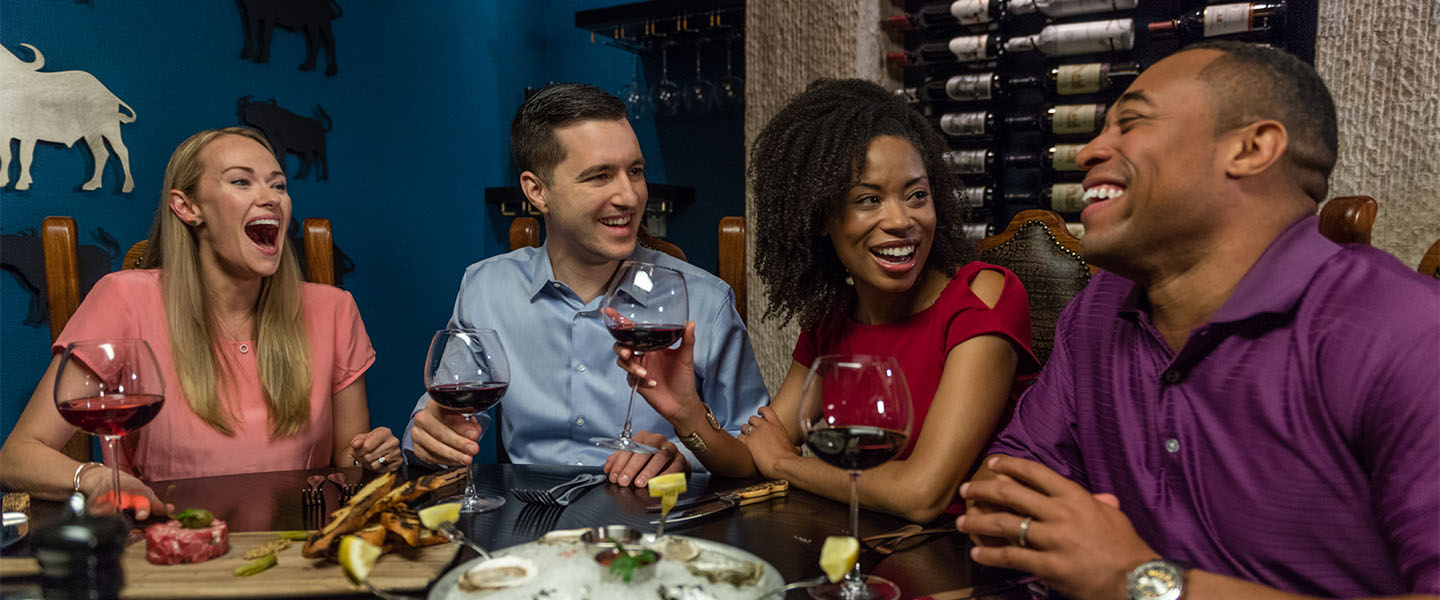 Make Time to Rest and Rejuvenate
After the day's meetings and adventures, unwind at the Spa Kalahari & Salon and restore your mind, body and spirit with one of its signature spa treatments. From nail care and massages to facials and more, you'll leave relaxed and rejuvenated. Popular treatments include hot stone massages, Kalahari's Hot Stone Pedi Kur and Kalahari Minute session.   
If you're staying at the Wisconsin Dells Resort, burn off some calories with complimentary access to two fitness centers featuring treadmills, elliptical trainers, exercise bikes and more. For those looking to enhance their workout routine, schedule an appointment with a certified personal trainer to learn proper techniques and training methods.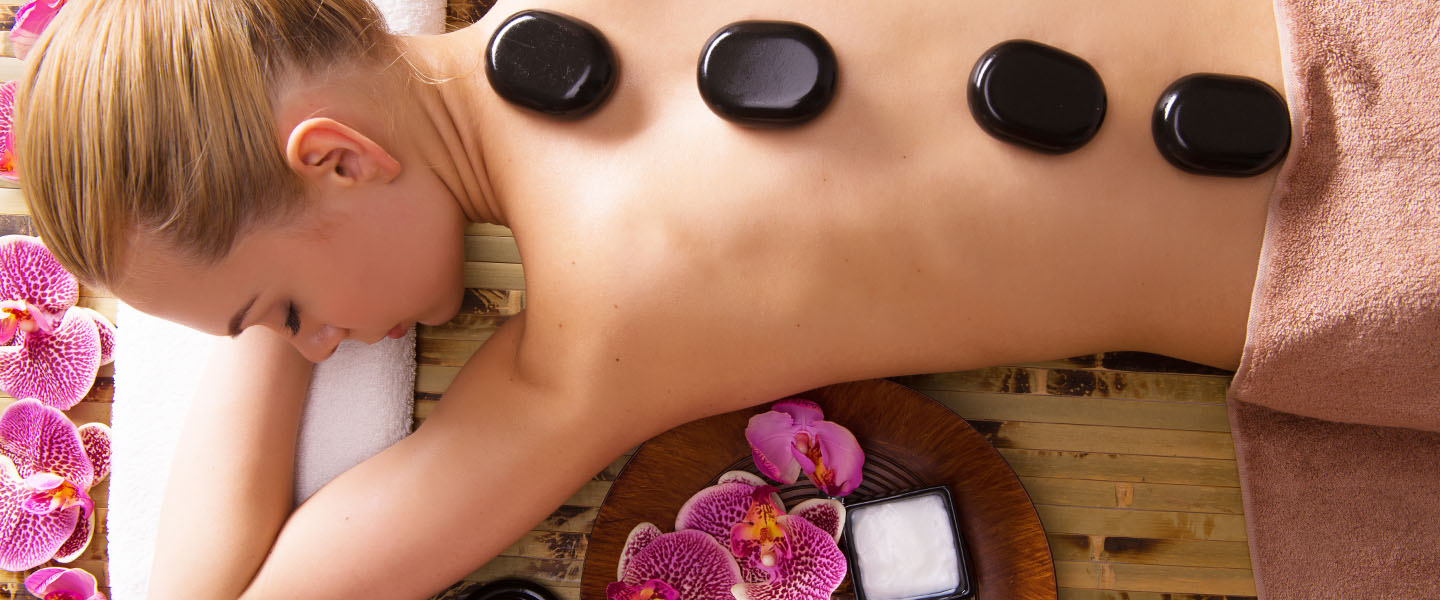 Let Them Help You Plan Your Next Event
Ready to bring your group to one of the magnificent Kalahari Resorts? The meetings and events team is ready to start working for you. Submit an online RFP and they'll put together information about on-site facilities to match your group's size and budget.
The sales team will be by your side from the first phone call to the final goodbye, covering everything from catering to teambuilding needs, room layouts and more. No matter the resort destination you choose, you're guaranteed to experience a professional, knowledgeable sales team ready to bring your vision to life.
Make your next meeting a success all under one roof—where meetings come to life at Kalahari Resorts & Conventions.