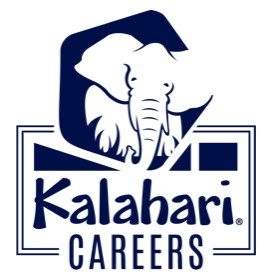 Join Our Team
Kalahari Resorts & Conventions is the category leader and employer-of-choice in the waterpark resort industry.
With America's largest waterparks, expansive and busy convention centers, signature eateries and well-appointed rooms, Kalahari is the leader in play, stay, meet and eat.
Current locations include Wisconsin Dells, Wisconsin (2000), Sandusky, Ohio (2005), Pocono Manor, Pennsylvania (2015) and Round Rock, Texas (2020). 
MISSION STATEMENT
We promise to deliver products and services beyond expectations.
Be Well: A Kalahari Wellness Program
Whether it's financially, mentally, physically or in your career we're committed to making you feel valued and healthy.
Kalahari Cares Assistance Fund
Kalahari Cares program provides short-term, emergency support to associates or eligible dependents.
Ubuntu is an often-used South African term that embodies the culture and feel of Kalahari Resorts. It means "I am what I am because of who we all are together.
Our family-driven brand has embraced the idea of providing beyond expectations moments to guests, both internal and external.  To work for Kalahari feels very much like being a part of a close-knit family.  As we empower to do what's sensible and what's right, our resorts feel as if they belong us as a group.  We exude tremendous pride in seeing the growth of our departments, properties and in one another.
Kalahari Resorts & Conventions grew from our love of family and our goal of creating an oasis for spending time with those you most care about. Being family-owned, there is conscious thought in developing unique multigenerational adventures.  Being authentically-African themed, with the influence of Ubuntu top of mind, each year our owners - the Nelson family - return to the continent to source art, music and culture as inspiration for each property.
When you combine passion and inspiration, the magnitude of the outcome is limitless. It's the little things that make a difference. After all, we're in the business of making memories. Your goal is our goal.
Just like the Nelson family grew their business from a small bar and pizza restaurant in the Dells, we want our associates to grow as well. We promote close to six-times as many associates as other like companies, because we believe this can be more than a job, it can become a career. Take a look at this post to learn more about how we celebrate the hard work. 
Hiring Events
Wisconsin Hiring Events
More details coming soon.
Ohio Hiring Events
Poconos Hiring Events
More details coming soon.
Round Rock Hiring Events
✔️ Immediate Hiring ✔️
💬 Open Interviews 💬
DATE: November 4th & November 9th
TIME: 5:00pm - 8:00pm 
WHERE: Tom Foolerys - Party Tables 
APPLY: Tom Foolerys Adventure Park