WHO WE ARE
We are America's Largest Indoor Waterparks and Resorts, including authentically-African themed resorts, cutting-edge arcades, thrilling theme parks, state-of-the-art convention centers, world-class dining, luxurious spas and diverse shopping experiences. Kalahari Resorts has a tradition of recruitment in Puerto Rico and currently has many happy and successful associates.
See what our employees have to say
WHAT WE ARE SEEKING
We have immediate positions available at our Wisconsin Dells, Wisconsin property in:
Life Guard or Slide Attendant
Other job opportunities if you meet the requirements
Permanent employment is available. Free Travel if you complete your 6 week contract starting May 1st!
**KALAHARI RECRUITMENT PACKAGE **
Free flight to come to Wisconsin and flight back if you complete at least a 6 week contract

Paid Training and paid American Red Cross lifeguard class

$50 Walmart gift card to help you settle in

FREE on-property fully furnished housing for 6 weeks ($105/week after)

FREE transportation from Madison airport (MSN) upon arrival, if needed

Flexible Schedules
TO BE ACCEPTED
Be able to speak fluent English in the Waterpark

Have a Certificado de Antecedentes Penales, dated in the last month.


PAYMENT SCALE AND BENEFITS
Kalahari provides free training for Lifeguardsthrough the American Red Cross.  A slide attendant (no lifeguard certification) earns $10.50 per hour.  A shallow water certified lifeguard salary is $11.00 per hour. Those who take and complete the deep-water certification earn $12.00 per hour.
Other resort positions area available with experience, and the pay for those positions varies.
All positions pay time-and-a-half when working more than 40 hours in a pay week (Thursday-Wednesday).
TRANSPORTATION AROUND THE AREA
There are low-cost options for public transportation. Housing is a 5-minute walk from work. Many people walk, get around by bicycle, or taxi to buy food, clothes or enjoy the surroundings.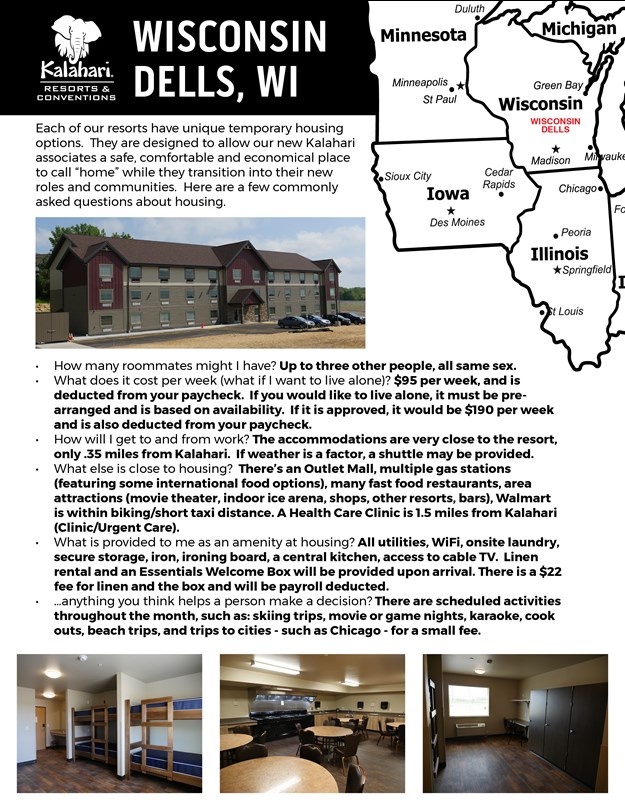 Please attend one of our virtual hiring events!
April 6, 6PM-7PM AST
April 7, 9:30AM-10:30AM AST
April 7, 9:30PM-10:30PM AST
Required
To get a job offer from Kalahari Resorts, you will need to provide us with a copy of your Certificado de Antecedentes Penales, dated within the last one (1) month. Please send the copy to [email protected]
English Skills
Kalahari requires those people in some positions to have average-to-above average English skills.
CallCenter Agents and Front Desk Agents must have exceptional English skills.
Lifeguards and Ride Attendants must have above average English skills.
Housekeepers must be able to communicate in English.
Additional Benefits
40 hours always available at the resort
Passes to the Water Park or the Play Park ($10 each entry)
Gym access
Discounts on Verizon Wireless and US Cellular
Occasional overtime (time-and-a-half)
Medical, dental and visual insurance available
Recognition programs and awards
Promotions
Educational opportunities
Enter the 401 (k) Program after one year
Kalahari pays for the class to be certified as an American Red Cross lifeguard.
More Information
With questions, please email in English to [email protected] or you can use WhatsApp to talk with our Puerto Rico recruiters at +1 (608) 888-3497