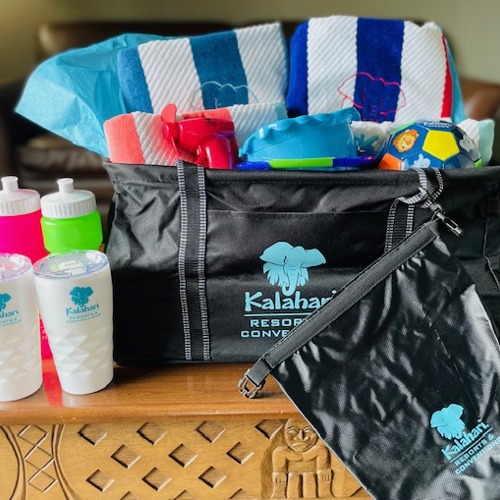 The ULTIMATE Kalahari Package
This is the Ultimate Kalahari Package!
WHATS INCLUDED:
(4) Rounds of Bowling for 4. Shoe Rental is included.
(1) $100 Arcade Card
(4) Great Karoo Breakfast Vouchers
(1) 14" Single Topping Pizza and 4 Fountain Drinks from Safari Snacks or Zulu Grille
(1) 45 Minute Halotherapy session at Spa Kalahari
(1) Large Kalahari Tote with Wet Bathing Suit Bag
(4) Luxurious Kalahari Towels
(2) Kalahari Tumblers
(2) Kalahari Water Bottles
(1) Kalahari Spray Fan
(1) Character Soccer Ball 
(1) Kalahari Popcorn Bucket
Savings of over $180.00!
The Mini Ultimate Kalahari Package includes:
(2) Passport to Adventure!
(4) Great Karoo Breakfast Vouchers
(1) 14" Single Topping Pizza and 4 Fountain Drinks from Safari Snacks or Zulu Grille
(1) Large Kalahari Tote with Wet Bathing Suit Bag
(4) Luxurious Kalahari Towels
(2) Kalahari Tumblers
(2) Kalahari Water Bottles
(1) Kalahari Spray Fan
(1) Character Soccer Ball 
(1) Kalahari Popcorn Bucket