Rides and Slides – Will You Ride them All?
Check out the Midwest's Largest Indoor Waterpark and the tons of waterslides and rides in addition to shark, mermaid, and surf lessons. Head to the outdoor water park for another adventure of water slides and raft rides in addition to a lazy river, wave pool, kids activity area complete with tipping bucket and so much more. Once dried off families can head to Safari Outdoor Adventure Park to continue a fun-filled family getaway. Kalahari Resort and Convention in Sandusky, OH has so many rides and slides you won't know where to start on your next family vacation getaway.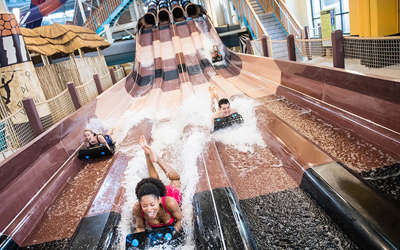 Cheetah Race
Grab a mat and challenge three friends to a race down Cheetah Race.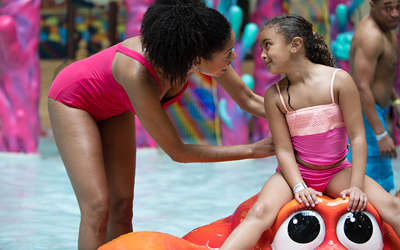 Coral Cove
Zero depth entry water play area featuring slides, bouncers, mini basketball and more.
PERFECTLY SIZED: Made Just for Little Ones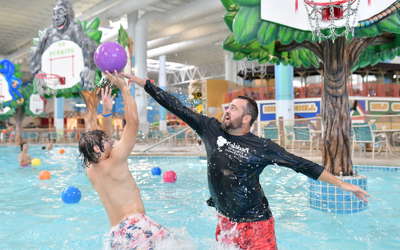 Crocodile Cove
Play a game of water basketball in this 3,000 square foot activity pool.
Bring It On: Shoot and Score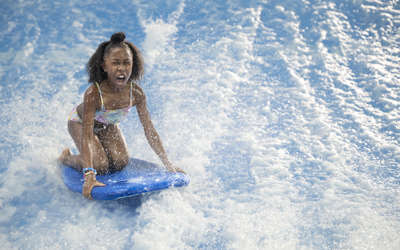 FlowRider
Test your body-boarding or surfing skills on this 5-foot wave simulator. 
Perfect For: The Bold and Coordinated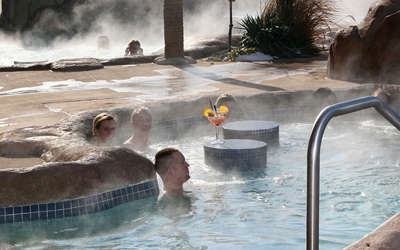 Indoor/Outdoor Spas
The indoor/outdoor spas let you move between either without needing to get out of the warm, relaxing water.
Time To Warm-Up: Indoors and Outdoors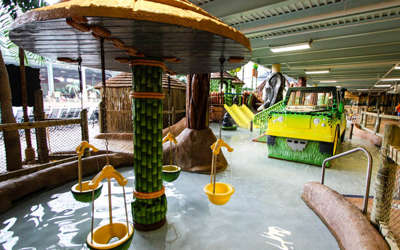 Kid's Safari
Fun-sized and jam-packed with interactive activities.
Perfectly Sized: Made just for little ones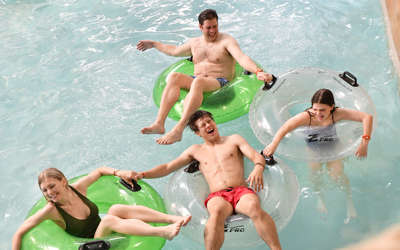 Lazy River
Take a break from the waterslide action and wind down the lazy river.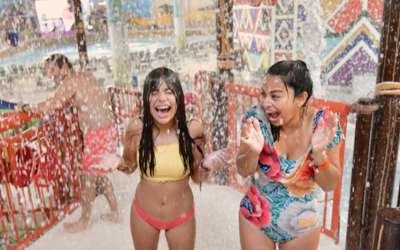 Leopard's Lair
It's a multi-level water tree fort for all ages! Wade in the zero-depth entry pool, zip down slides of all sizes, play in water features and get soaked from the cross-firing water cannons!
Watch Out: Water Cannon on Blast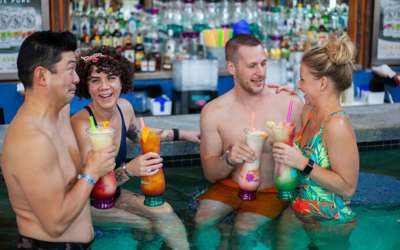 Mud Hut Swim-Up Bar
Enjoy signature cocktails or beer on tap while lounging in the pool.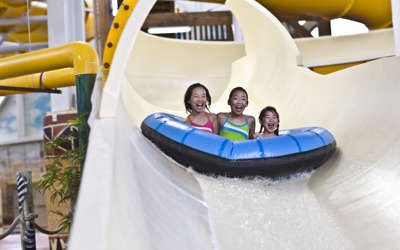 Rippling Rhino
Perfect for groups of two or three, meander through a giant flume, navigating turns and drops before coming to a stop in the catch pool below.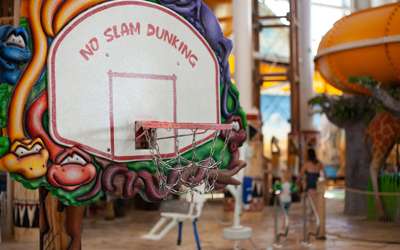 Shooting Star
Athletically inclined adventurers will love the challenge of shooting hoops in this 3,700 square foot water basketball pool.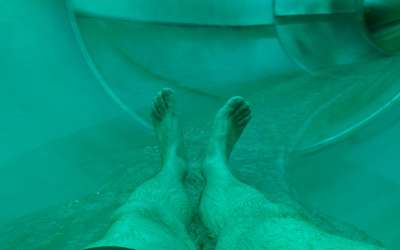 Storm Chaser
Race through the twists and turns of this exciting tube slide.
BE ADVENTUROUS: Chase the storm!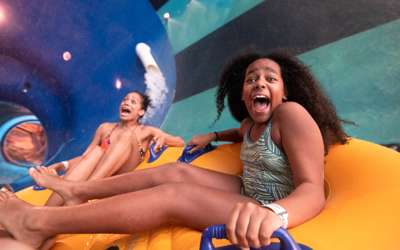 Swahili Swirl
Giant thrill-seeker raft ride for up to four.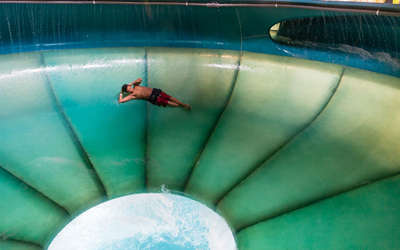 Tanzanian Twister
Around and around you'll go as you twist through this funnel flume at up to 40 mph! Once at the center, prepare for a free fall into the catch pool below.
How Will You Fall: Gracefully or Not So Much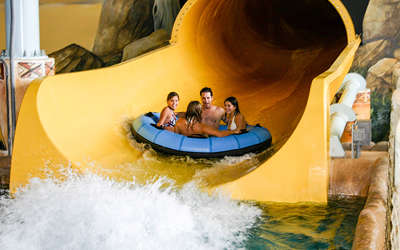 Victoria Falls
Grab your whole crew and hop on this family raft ride! 
Perfect For: FAMILY-TOGETHERNESS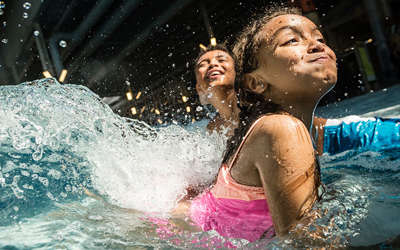 Wave Pool
Wade in the waves & relax in our zero-depth entry wave pool.
A Classic: Splash, Float, Bob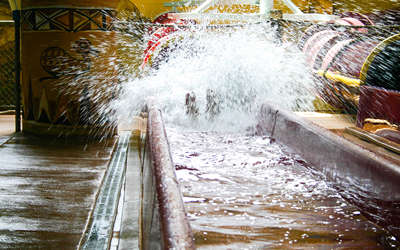 Zig Zag Zebra
Zig and zag as you soar down this tandem tube slide.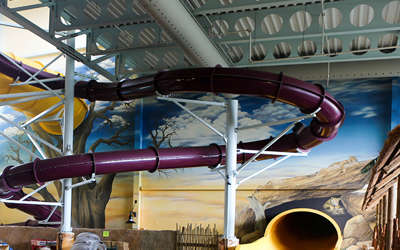 Zimbabwe Zipper
More adventurous thrill seekers will zip down this flume at more than 40 mph!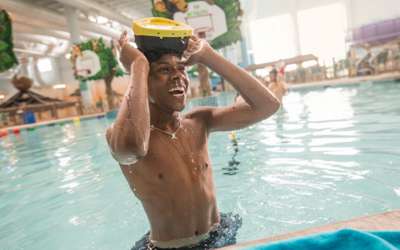 New!
Underwater Virtual Reality
DIVR combines the weightlessness of being in water with the immersion of Virtual Reality, transforming any pool into a fantastic adventure where anyone can go flying, deep sea diving, or zooming through outer space.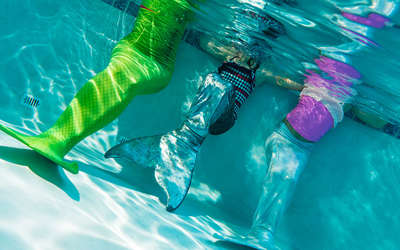 Become a Mermaid
Do you believe in mermaids & mermen? Of course, you do! Join the intrigue of mermaids and become one for yourself. Book your lesson today!
Never Stop Believing: See For Yourself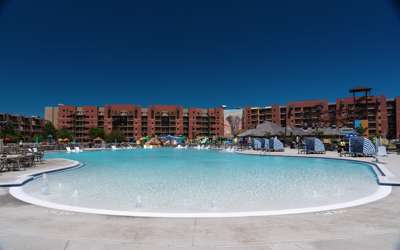 New!
ZanziBAR Pool
Now Open! Enjoy the large sun deck for relaxing and sunbathing or splash away in the huge outdoor pool.
Age Groups: Bigger Kids and Up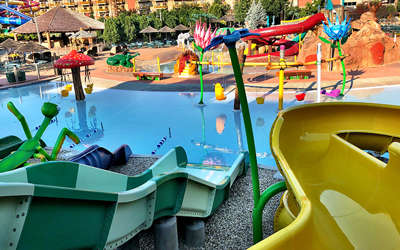 Bugs Burrow
Ever dream of what it would be like if you were shrunk down to the size of a bug? Imagine how your view of the world would be.
Age Groups: Little Ones and Bigger Kids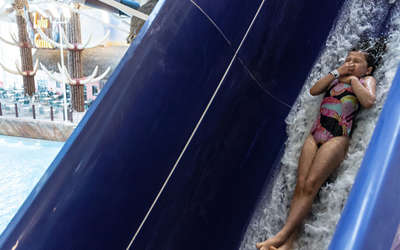 Extreme Rush
Step into the launch pod, listen to the countdown and feel the trap door fly open beneath your feet.
Age Groups: Tweens and Up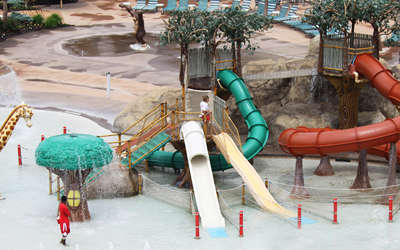 Kids Safari Pool
Pool, Slides, Animals, OH MY! Your little one will love splashing around outside in this African themed pool.
Age Groups: Little One and Bigger Kids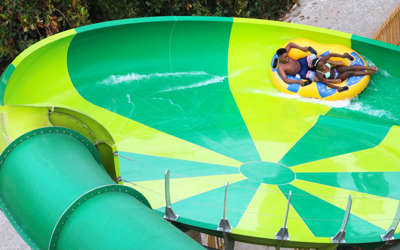 Sahara Sidewinder
Experience high speeds and high thrills as your tube launches down dark tunnels, gaining speed before rocketing into a tight curve around massive saucer openings.
Age Groups: Tweens and Up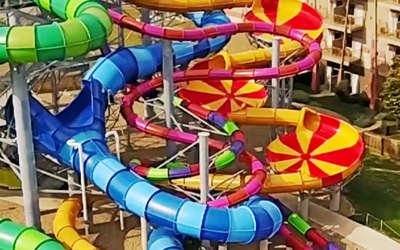 Serengeti Spinner
Serengeti Spinner features back-to-back curves and 360 spins.
Age Groups: Tweens and Up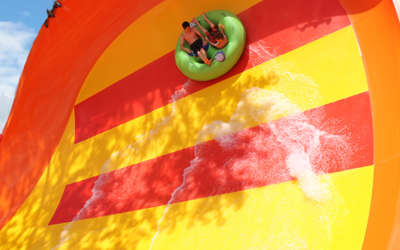 Stingray
Soar up steep sides and experience a few gravity-defying moments as the tube rocks up and down the funnel sides.
Age Groups: Tweens and Up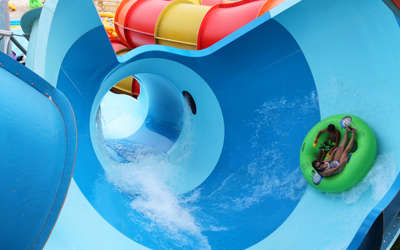 Tornado Alley
Sudden drops, high banking slaloms and zero gravity moments as you navigate through this adrenaline-inducing thrill slide.
Age Groups: Tweens and Up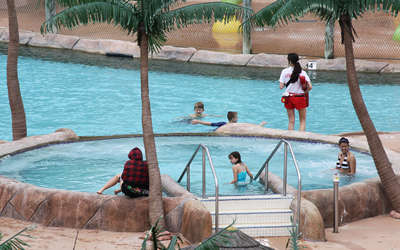 Lagoon Pool
Relax, sunbathe, and splash away in our Lagoon Pool.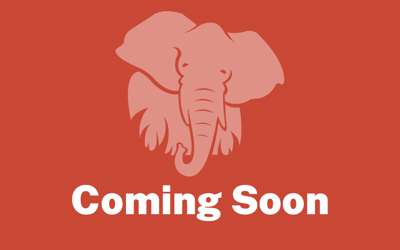 Coming Soon!
Free Fall Jump Tower
The Free Fall Jump Tower is an adrenaline factory unlike any other. A 50ft drop creates the ultimate thrill for those daring enough to make the jump. The question is, are you willing to take the leap?
Note: Closed during high wind conditions.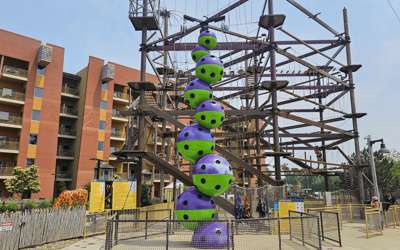 New!
Astro Ball
Test your resolve and determination to see how high you can climb. Don't Look Down! You've Got This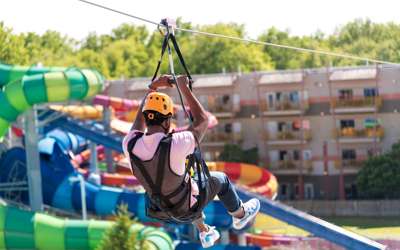 Zip Line Tour
Soar over 60 feet above Safari Outdoor Adventure Park on our 200 - 400 foot-long zip rides. Riders must be 48" tall to enjoy this attraction.
Note: Closed during high wind conditions.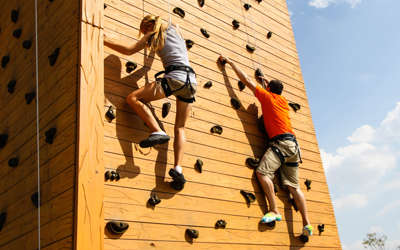 Adventure Climbing Walls
Climb to new heights on our two 32 foot high custom climbing walls featuring race timers and auto belay safety systems.
Note: Closed during high wind conditions.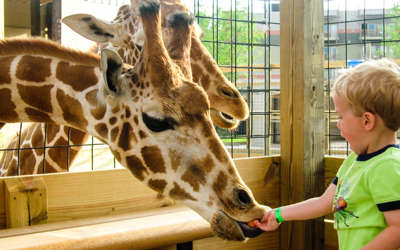 Safari Adventures Animal Park
Experience up-close and educational encounters with the animals of Africa. *All minors must be accompanied by an adult.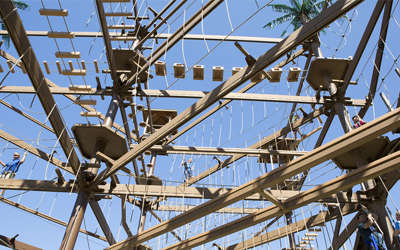 Ropes Course
Test your balance and coordination on this three level course featuring 48 elements spanning over 750 feet of thrilling ropes adventures.
Note: Closed during high wind conditions.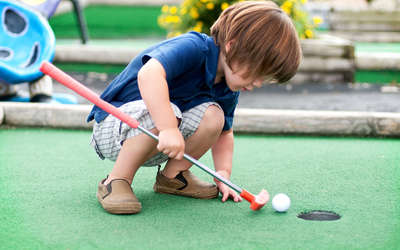 The Great Escape Mini Golf
Hit the links outdoors for 18 exciting holes at the Great Escape Mini Golf.