Rides and Slides - Will You Ride Them All?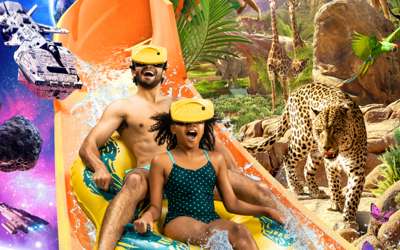 New!
VR Waterslide
This VR waterslide brings a totally new dimension to waterpark fun. With multiple immersive experiences, guests throw on the headset and are instantly launched into a new realm and they ride down the waterslide. But the fun doesn't stop there, with multiple experiences, it's a whole new reality every time!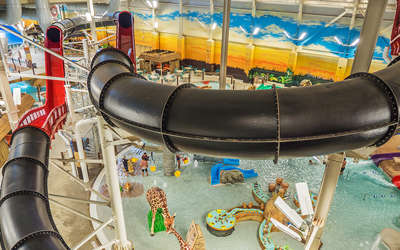 Anaconda
Hang on tight! Navigate through sharp turns and high-speed plunges as you careen down this family raft ride.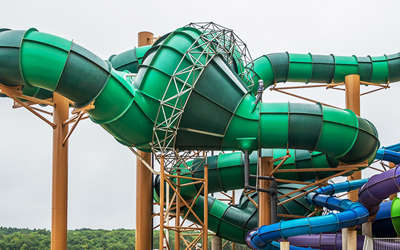 Barreling Baboon
Riders slide through soaring dips and twists into the oscillating funnels; this ride changes tempo enough to keep riders guessing what's around the next bend.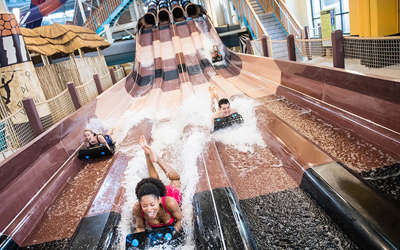 Cheetah Race
Grab a mat and challenge three friends to a race down Cheetah Race.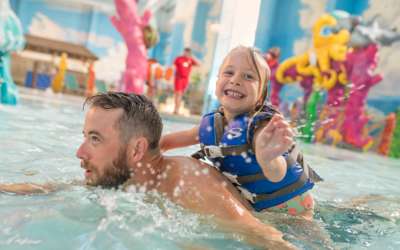 Coral Cove
Zero depth entry water play area featuring slides, bouncers, mini basketball and more.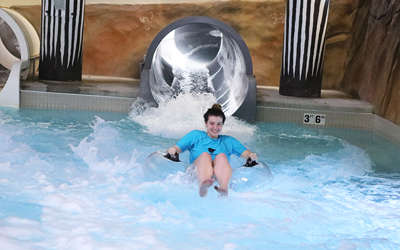 Elephant's Trunk
This twisting and meandering tandem tube slide sends you on a 270 foot long adventure.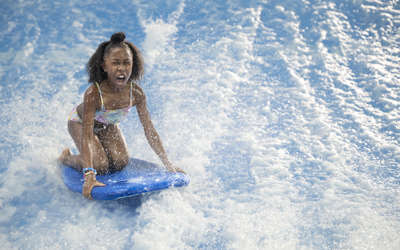 FlowRider
Test your bodyboarding or surfing skills on this 5-foot wave simulator.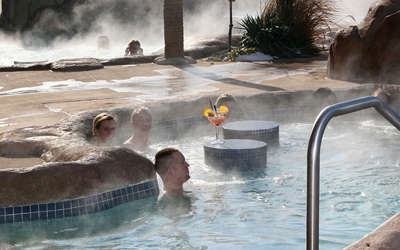 Indoor and Outdoor Spas
The indoor/outdoor spas let you move between either without ever getting out of the warm, relaxing water.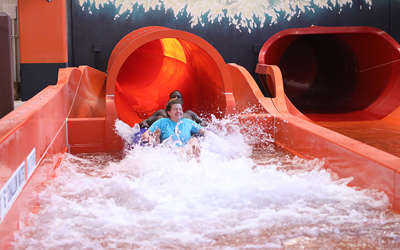 Kenya Korkscrew
Twist and turn as you spiral down this tandem tube slide, Kenya Korkscrew.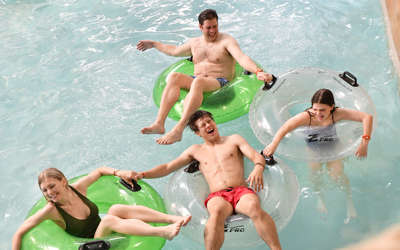 Lazy River
Take a break from the waterslide action and wind down the lazy river.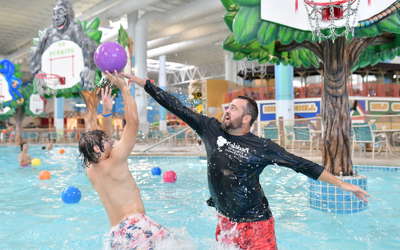 Lost Lagoon
Athletically inclined adventurers will love the challenge of shooting hoops in this water basketball pool.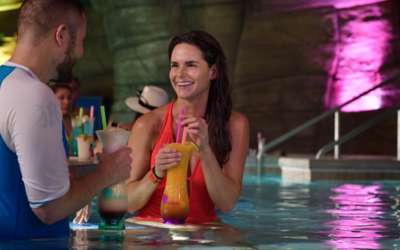 Paxton Grotto Swim Up Bar
Never leave the water to grab a cocktail. Adults can relax and unwind in this second, new swim-up bar featuring an immersive, Instagram-worthy grotto. Must be at least 21 years old to enter.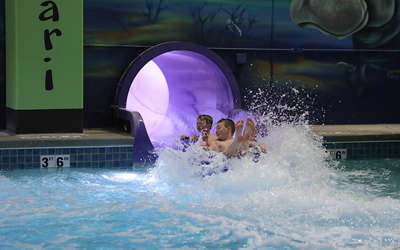 Rippling Rhino
Perfect for groups of two or three, meander through a giant flume, navigating turns and drops before coming to a stop in the catch pool below.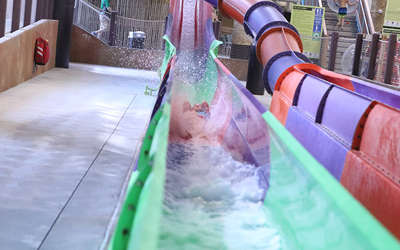 Sahara Sidewinders
Get ready to hurl down a nearly vertical plummet on a 250-plus foot journey that takes you through a gravity-defying 360 degree loop to an amazing splashdown below!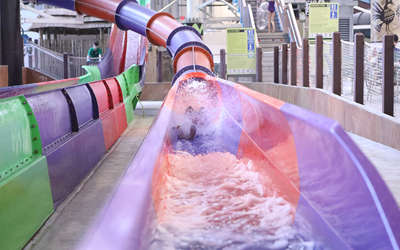 Screaming Hyena
3, 2, 1, DROP! Meant for the most adventurous thrill-seekers, this ride starts THROUGH THE ROOF, 60 feet above the water park floor.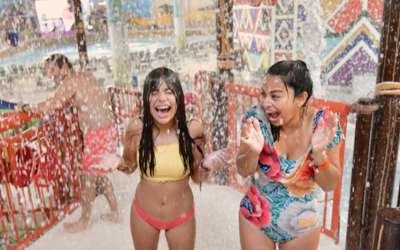 Splashdown Safari
Wade in the zero depth entry pool, zip down slides of all sizes, play in water features and get soaked under the giant tipping bucket.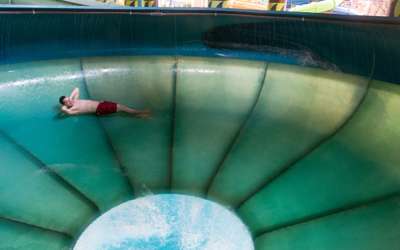 Tanzanian Twister
Around and around you'll go as you twist through this funnel flume at up to 40 mph! Once at the center, prepare for a free fall into the 7-foot deep catch pool below.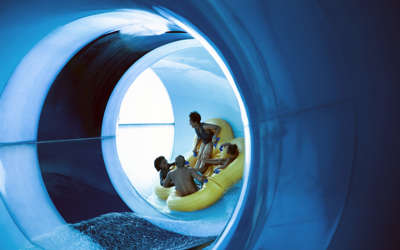 The Smoke that Thunders
Named after the local name for Victoria Falls in southern Africa, The Smoke That Thunders is a massive family raft ride. Perfect for adventurers of all ages! This ride stops running for the day at 7:30 pm.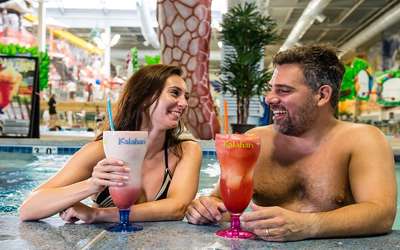 Thirsty Turtle Swim Up Bar
Enjoy signature cocktails or beer on tap while lounging in the pool. Must be at least 21 years old.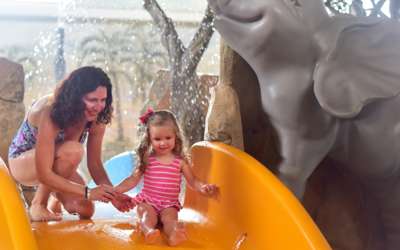 Tiko's Watering Hole
Tiko's Watering Hole is an intricate kid's play area, featuring hands-on activities, slides and a lazy river made just for them!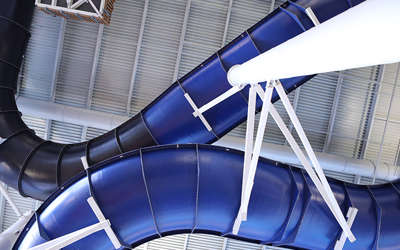 Victoria Falls
Grab your whole crew and hop on this 504 foot family raft ride!
Wave Pool
Wade in the waves and relax in our zero-depth entry wave pool.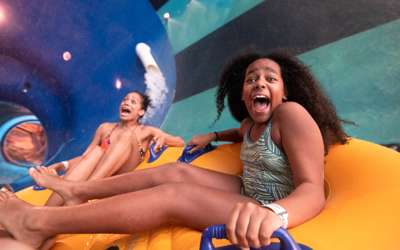 Wild Wildebeest
Wild Wildebeest is a WILD ride!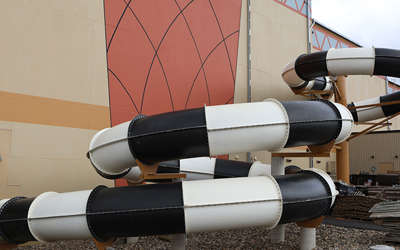 Zig Zag Zebra
Zig and zag as you soar down this tandem tube slide. It would take a Zebra only six seconds to run the entire length!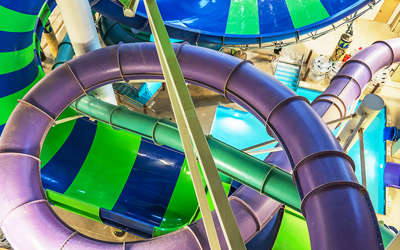 Zimbabwe Zipper
More adventurous thrill seekers will zip down this flume at more than 40 mph!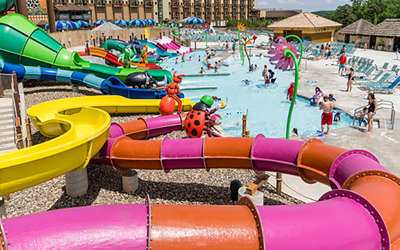 Bugs Burrow
Welcome to the community of Bugs Burrow! A myriad of lovable insects and critters that call Bugs Burrow their home welcome you to come splash, play, and have fun.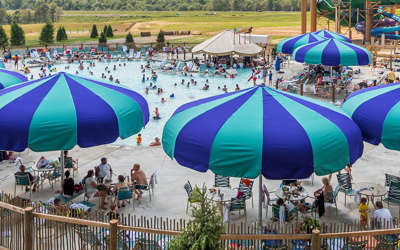 Outdoor Pool
Enjoy the large sun deck for relaxing and sunbathing or splash away in the huge outdoor pool.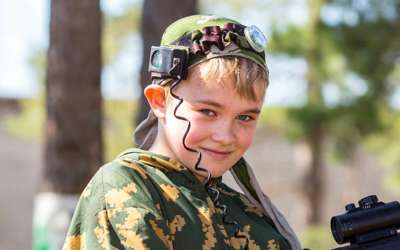 New!
Outdoor Laser Tag
Put on your vest and take aim as you duck and dodge lasers throughout the course! Play laser tag as an individual or with your family and friends in this outdoor laser tag arena. Can you be the high-scorer?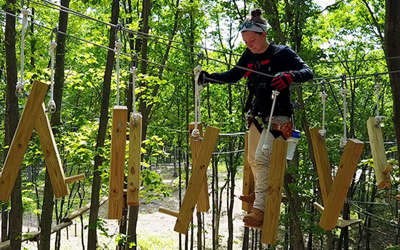 Ropes Course
Challenge yourself with physical activities that range from easy, with the children's courses close to the ground, to extremely difficult expert tree-to-tree challenges. These courses are made of small platforms constructed at various levels in the trees that are connected by different types of bridges that represent obstacles. You can maneuver from platform to platform wearing double belay safety harnesses. These exciting courses consist of 87 elements that will challenge you with tightropes, swinging log steps, moving platforms, rope net climbs, tunnels, hanging posts and zip lines!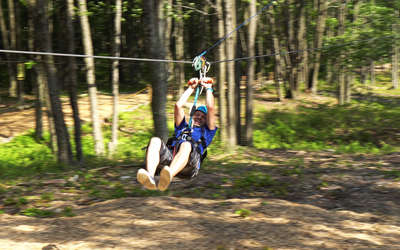 Zip Lines
Quad racing zip lines, now open, the only zipline attraction of its kind the region. Four at a time, race against family and friends to compete for the fastest time. Do the Ropes Course or Zip Line individually or - for the ultimate adventure - BOTH!