Resort Gallery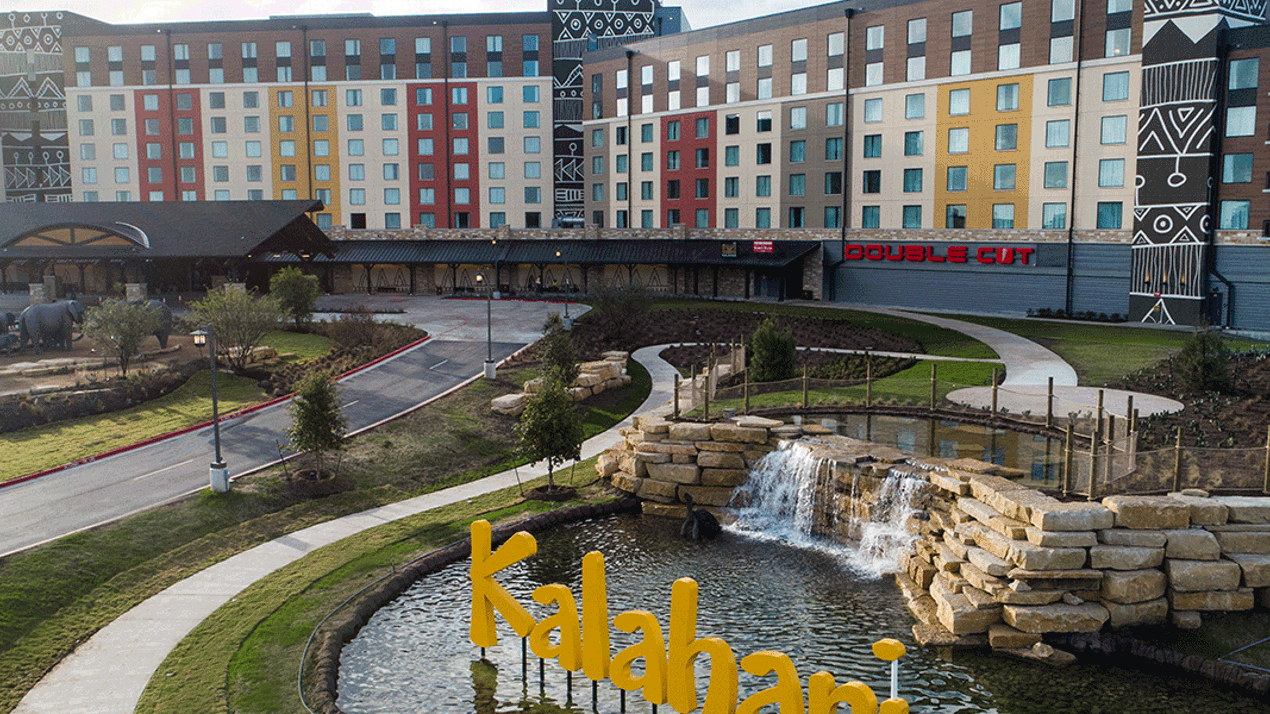 Welcome to Kalahari.
Learn More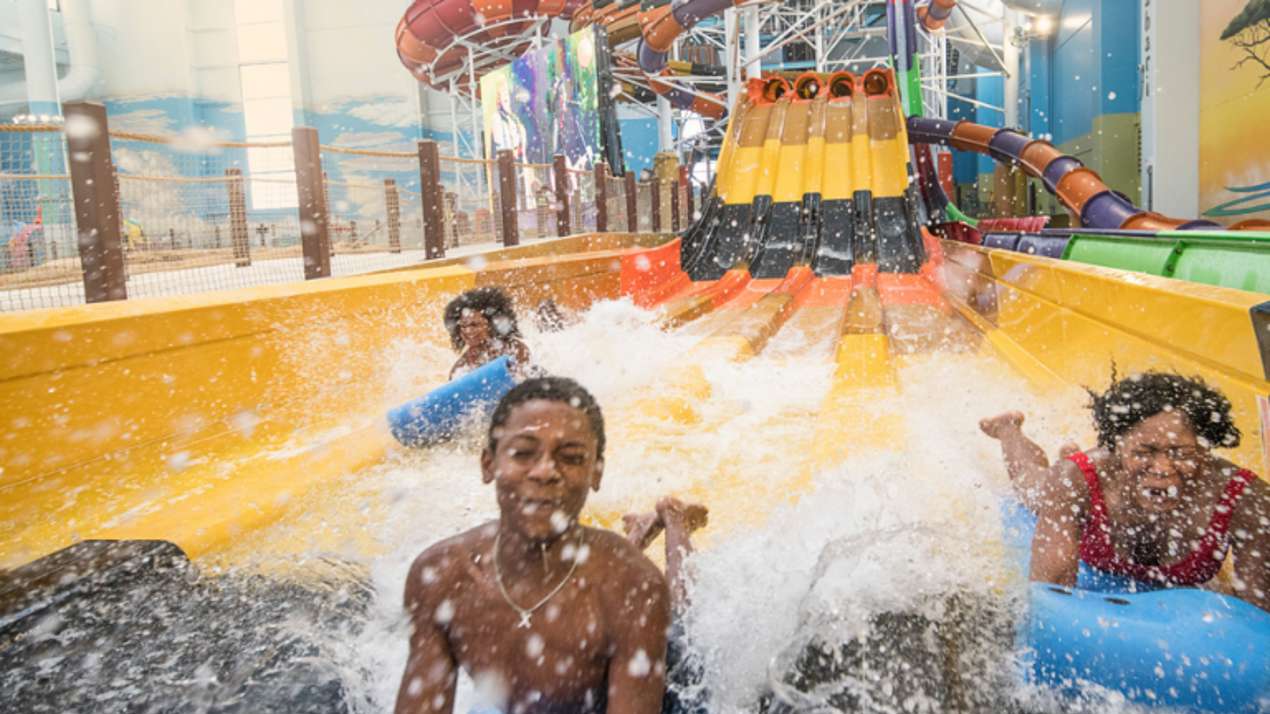 Cheetah Race
Grab a mat and challenge three friends to a race down Cheetah Race.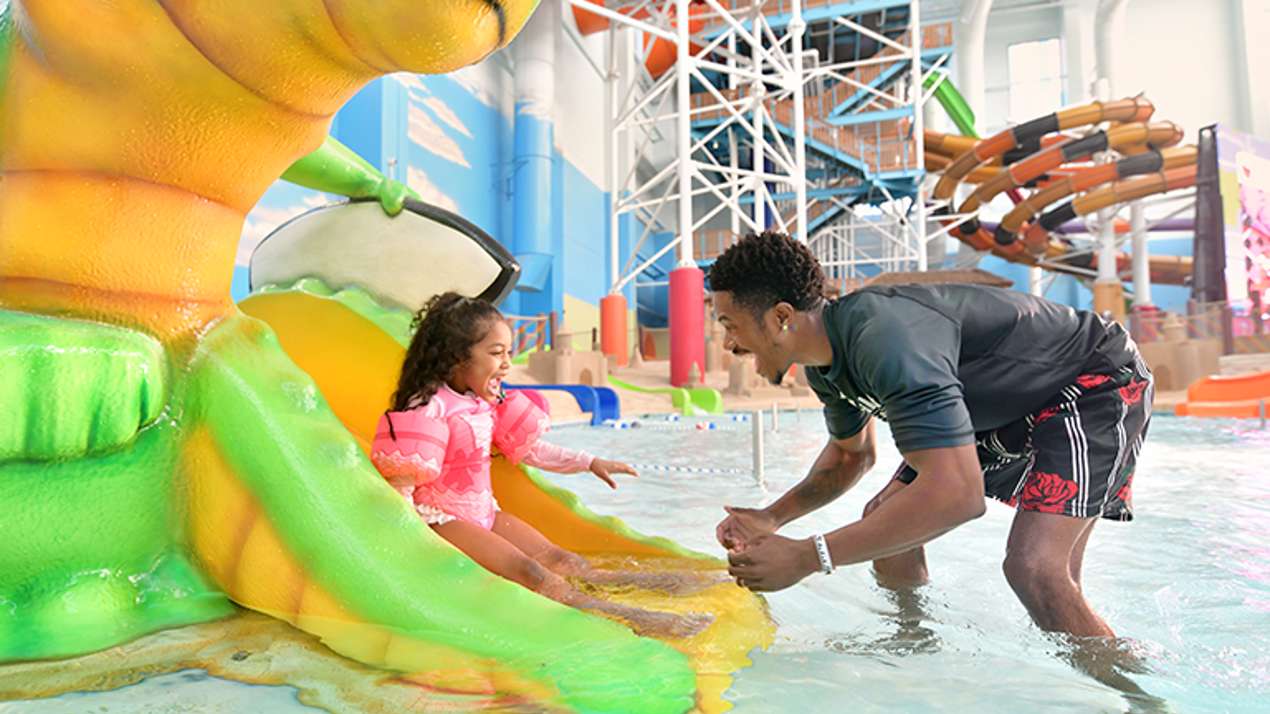 Coral Cove
Zero depth entry water play area featuring slides, bouncers, mini basketball and more.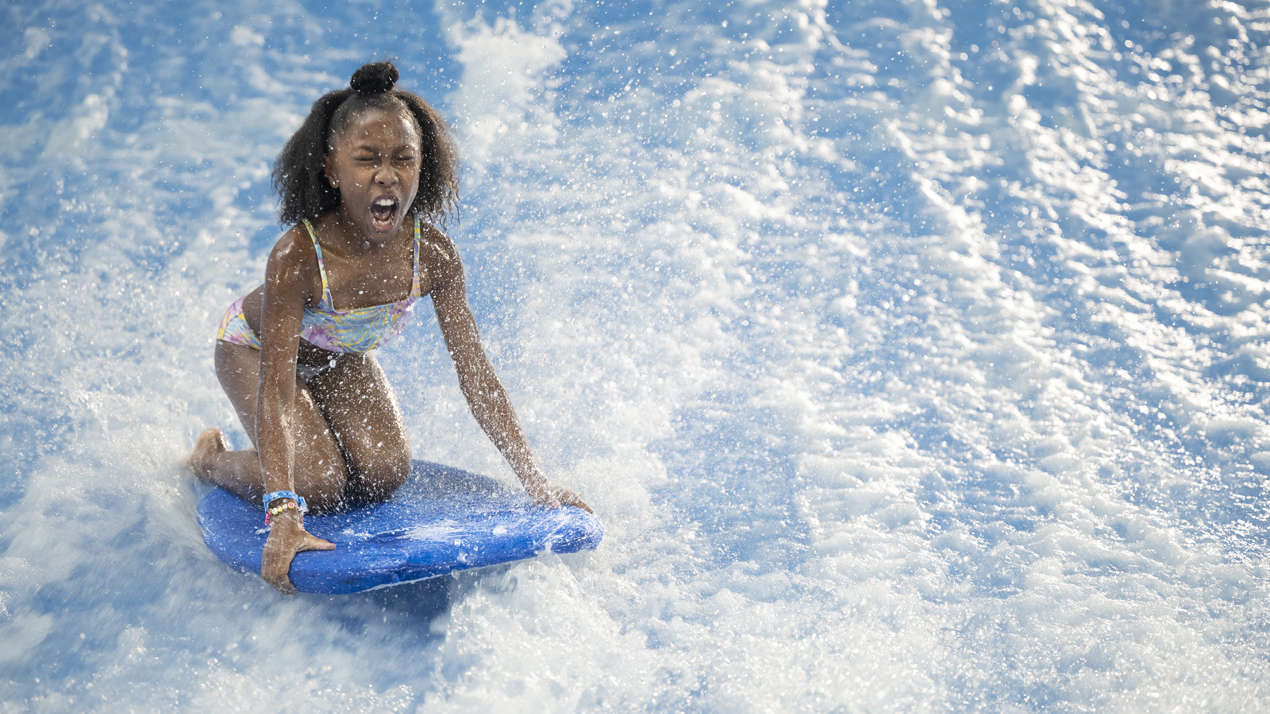 FlowRider
Test your bodyboarding or surfing skills on this 5-foot wave simulator.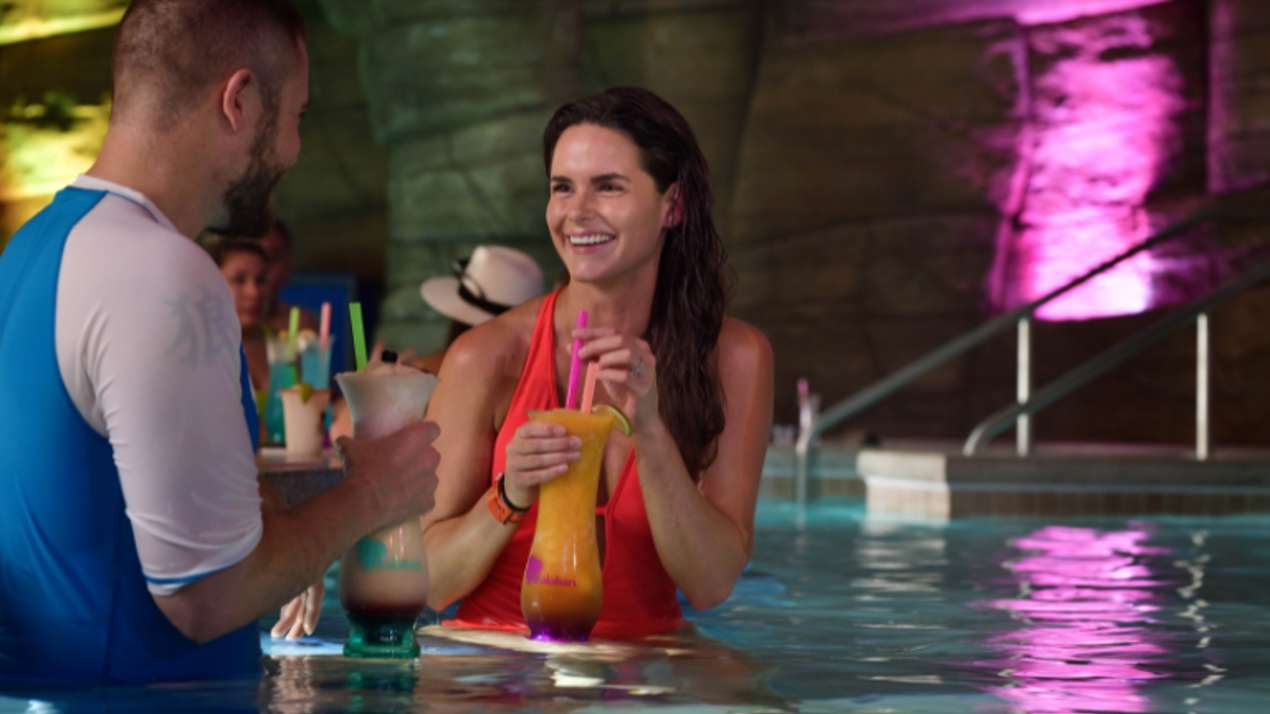 Grotto Swim-Up Bar
Never leave the water to grab a cocktail. Adults can relax and unwind in this second, new swim-up bar featuring an immersive, Instagram-worthy grotto. Must be at least 21 years old to enter.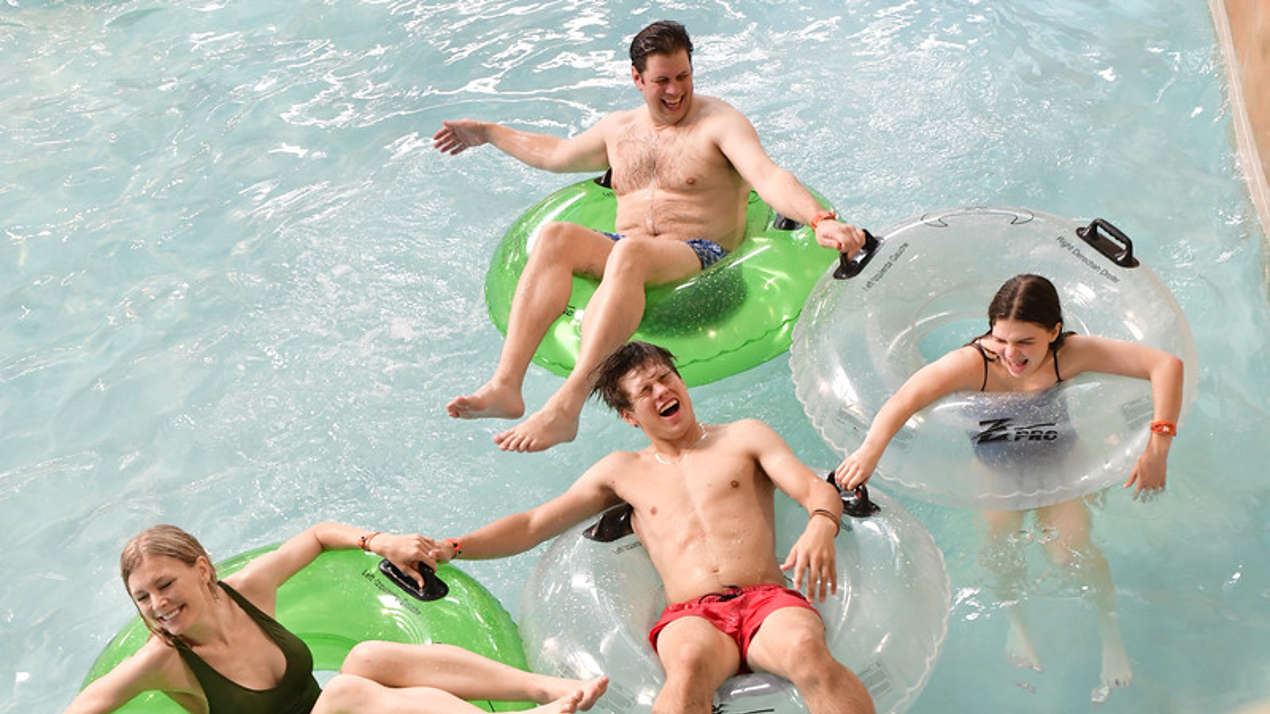 Lazy River
Take a break from the waterslide action and wind down the lazy river.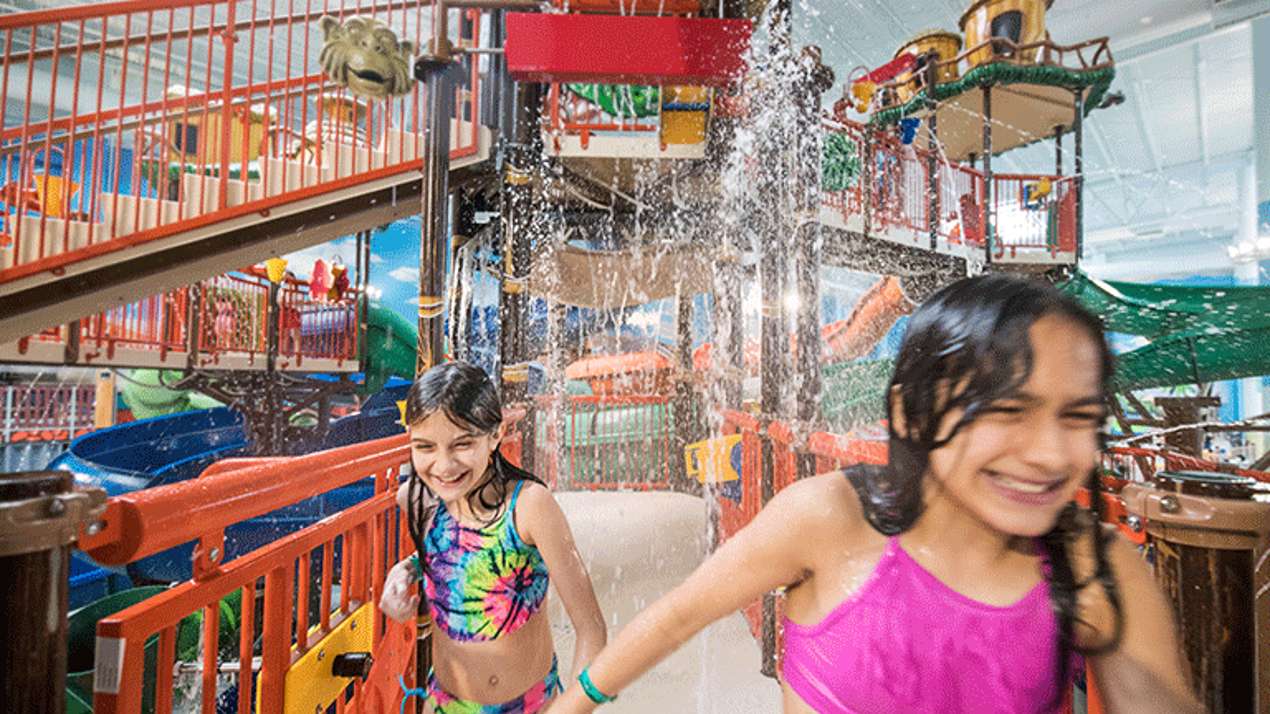 Splashdown Safari
Wade in the zero depth entry pool, zip down slides of all sizes, play in water features and get soaked under the giant tipping bucket.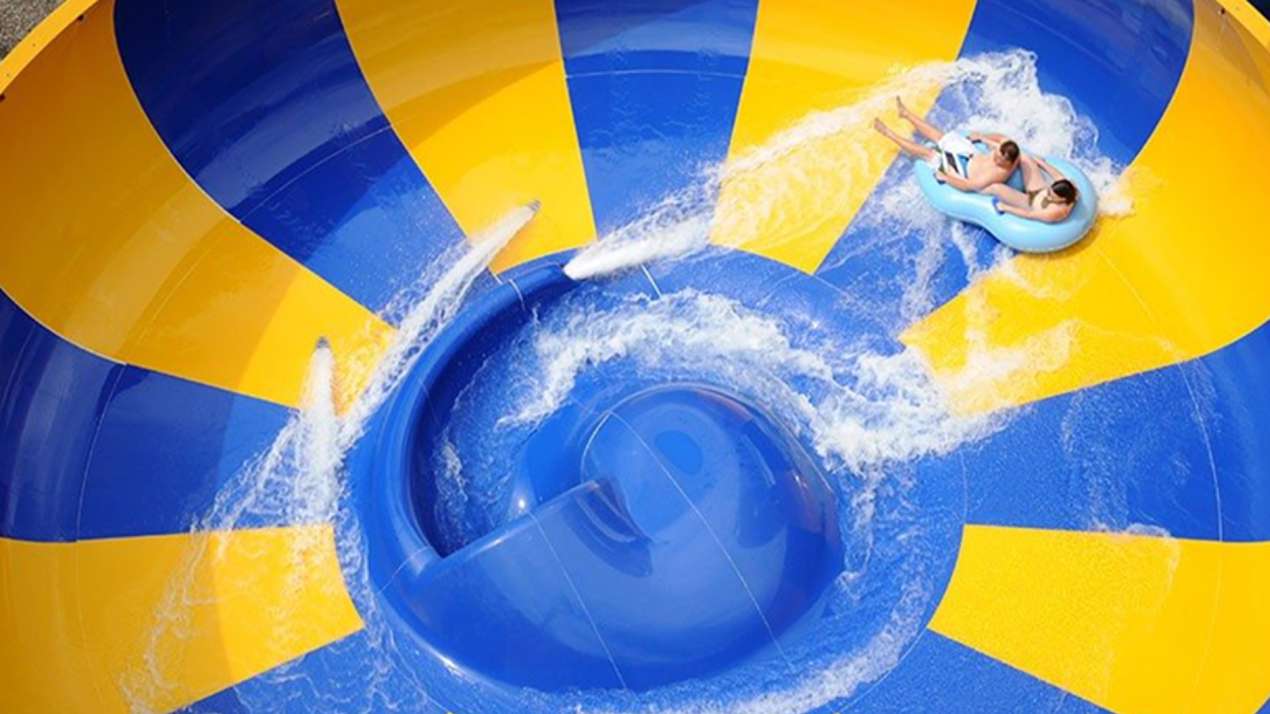 Swahili Swirl
A thrill-seeker dual raft ride, the Swahili Swirl sends you plummeting into a funnel to whirl around and around before sliding down into the catch pool below.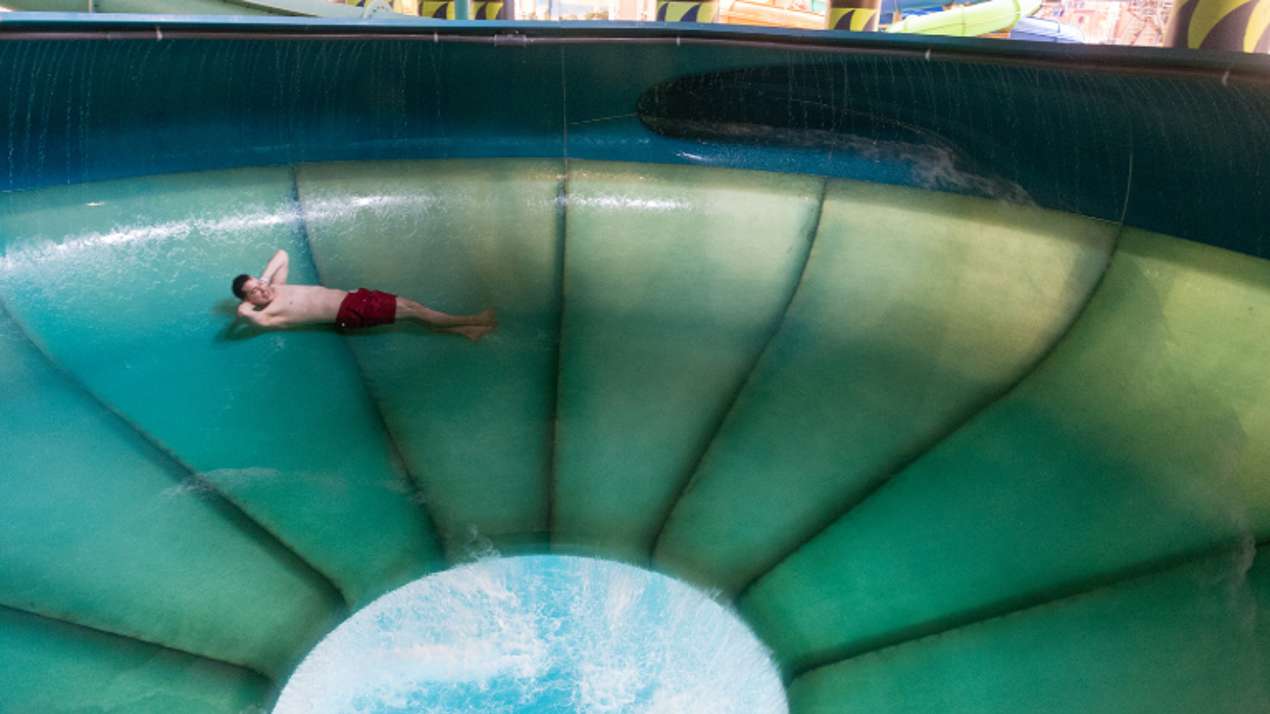 Tanzanian Twister
Around and around you'll go as you twist through this funnel flume at up to 40 mph! Once at the center, prepare for a free fall into the 7-foot deep catch pool below.
Tiko's Watering Hole
Tiko's Watering Hole is an intricate kid's play area, featuring hands-on activities, slides and a lazy river made just for them!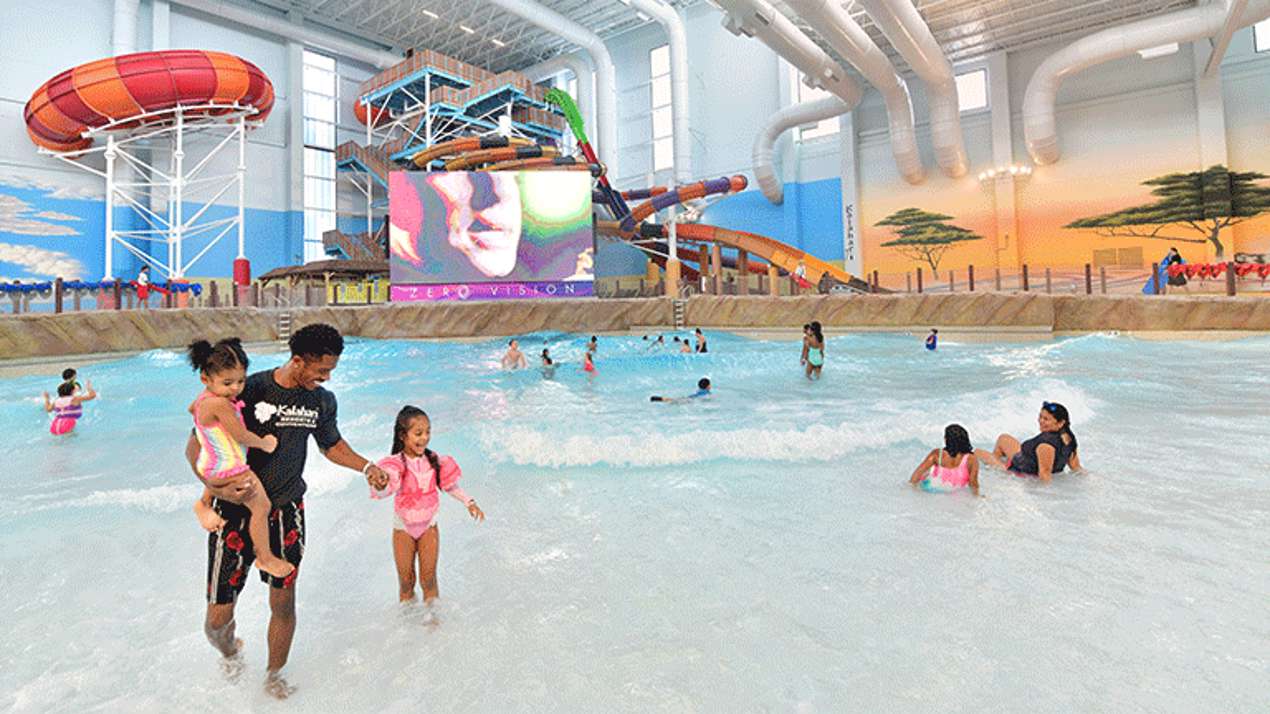 Wave Pool
Wade in the waves and relax in our zero-depth entry wave pool.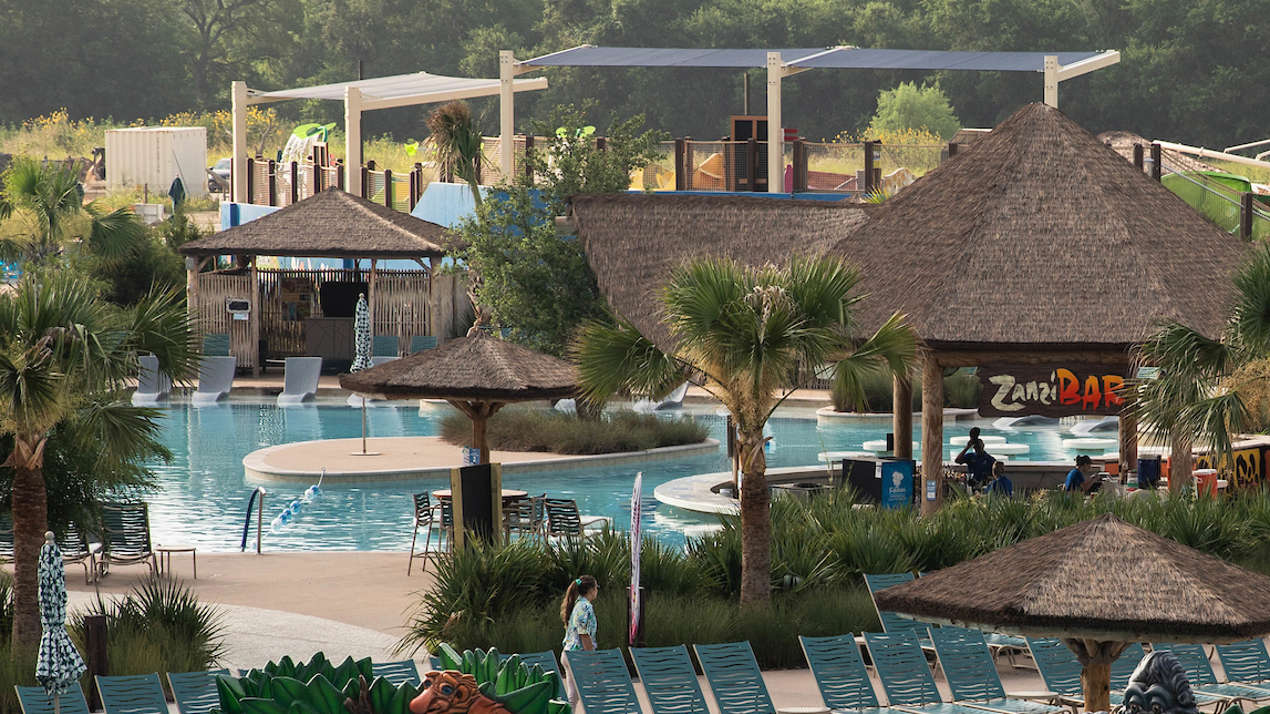 ZanziBar Pool & Swim-Up Bar
Make a splash at our epic outdoor pool and swim-up bar! Whether you're looking to relax and catch some rays on our large sun deck, or dive into the fun with family and friends, we've got you covered.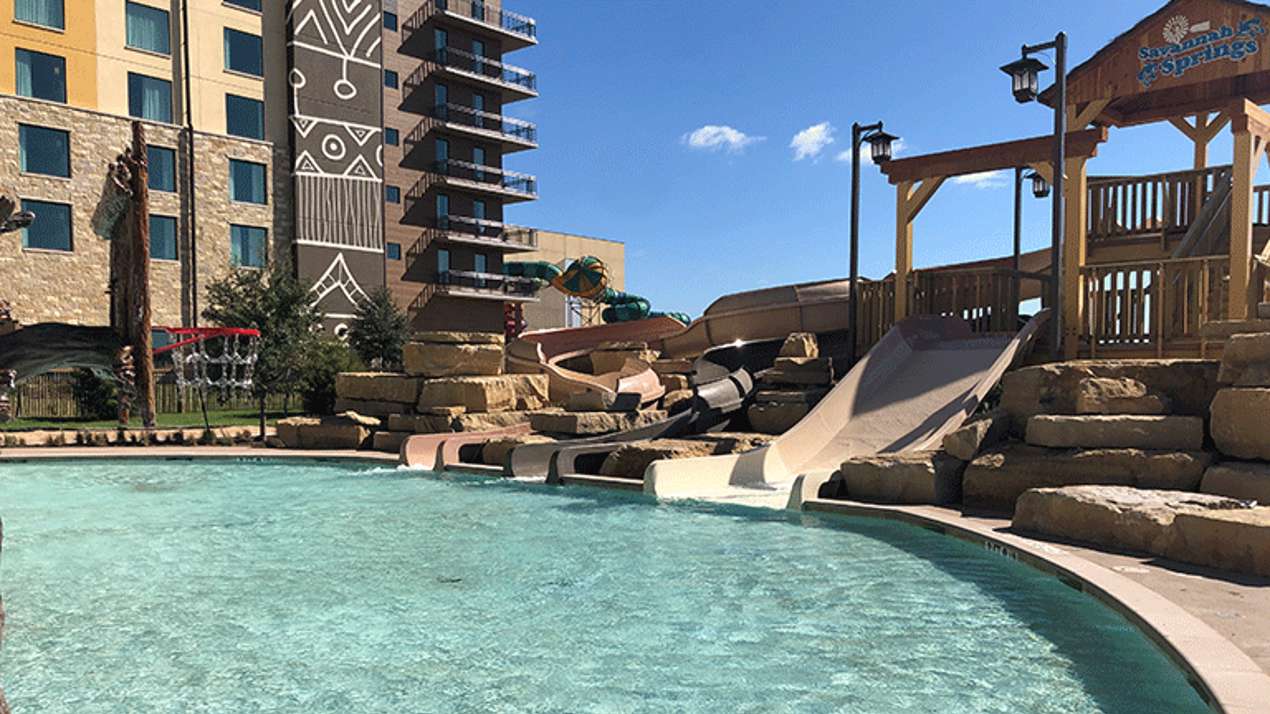 Savannah Springs
For the Little Splashers! This perfectly-sized kid's pool features two slides and a wet swing-set, perfect for little ones to play and have fun.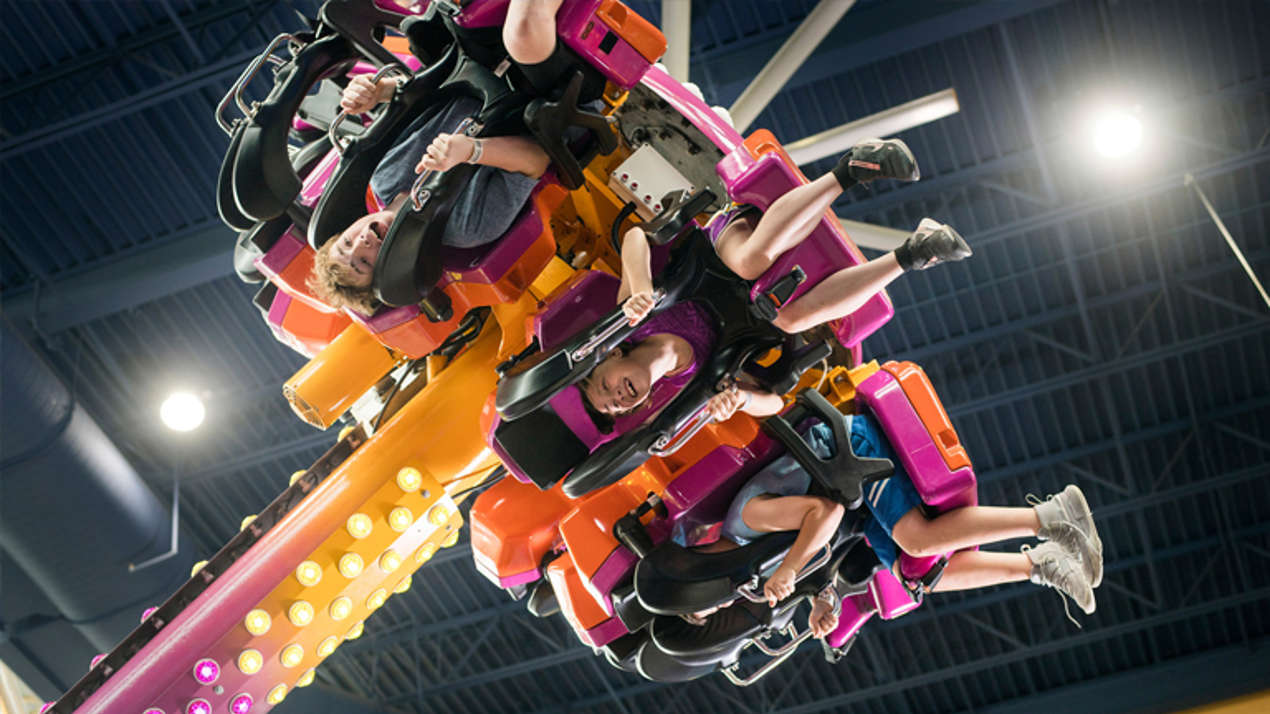 G-Force One
The G-Force One flips, swings and twirls you around while swinging like a pendulum.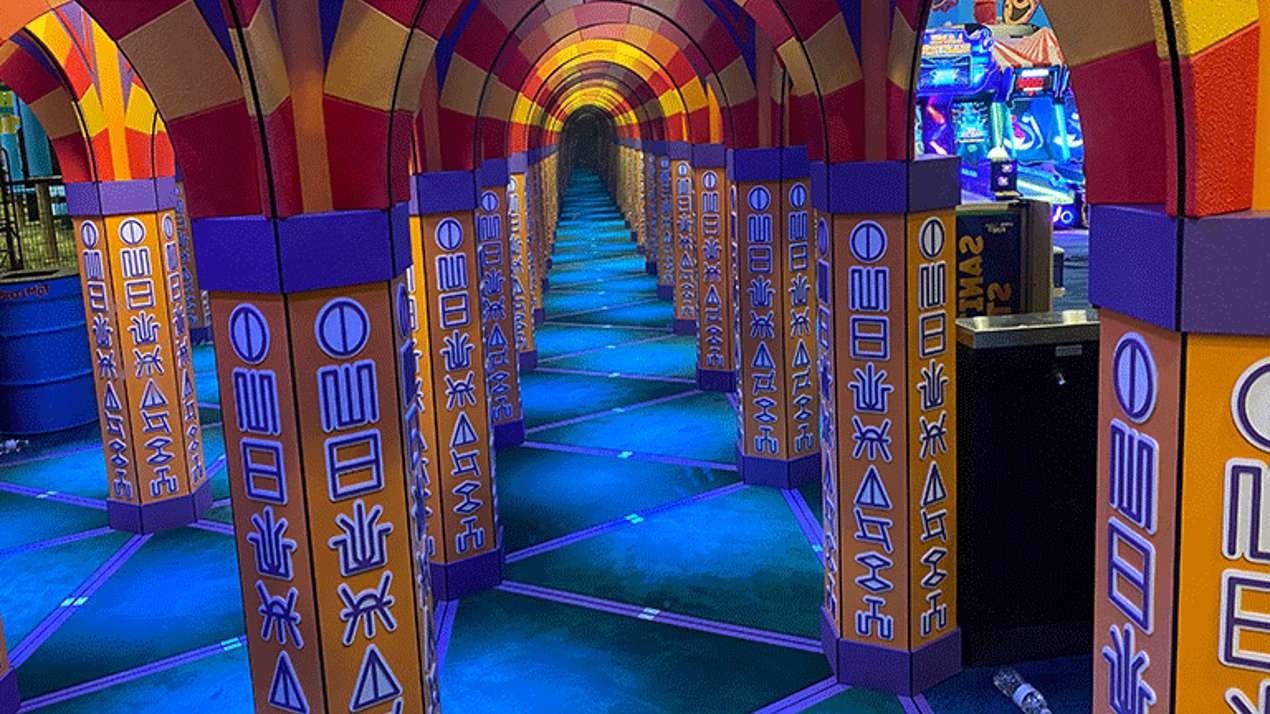 Cave of Mirrors
This Cave of Mirrors will trick you into seeing something that is not there. But be careful. Every wrong turn will put you further into the cave... to the point of no return. Will you get out?
Look Twice
Is that real or a reflection?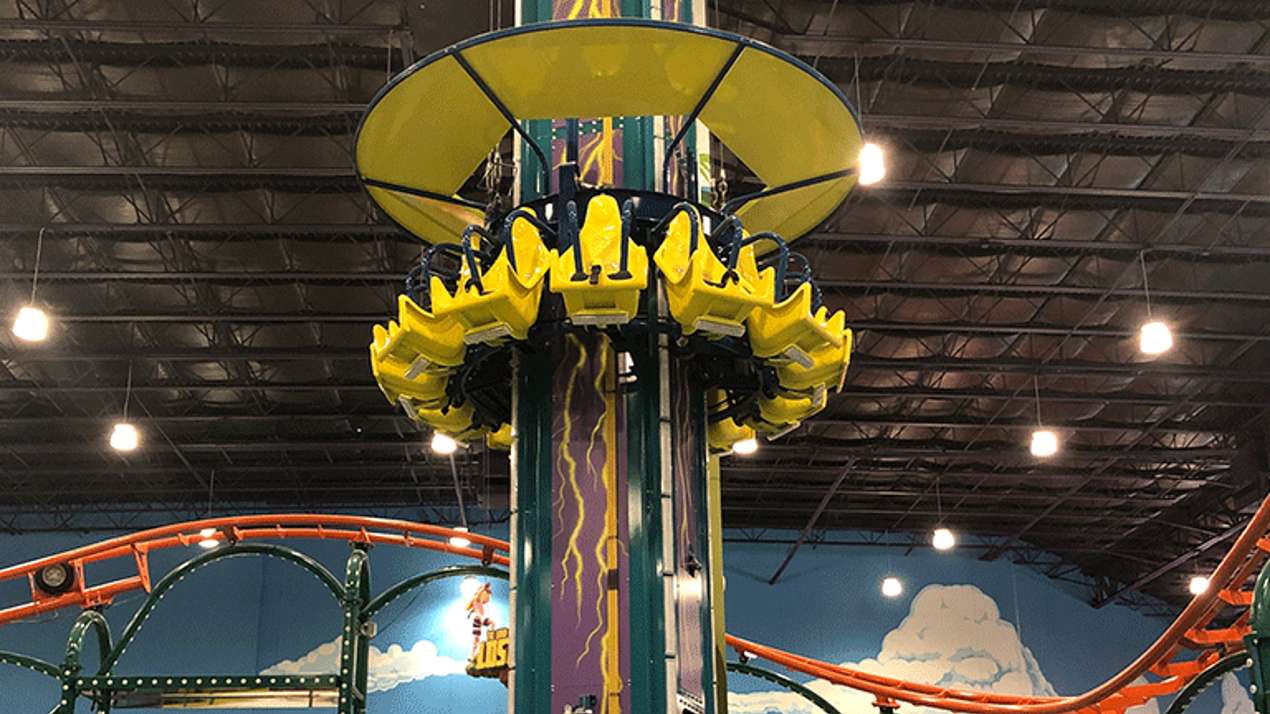 Maximum Foolocity
This whirly ride goes 50 ft in the air, up, down, and all around! Can you handle that kind of spin?
Up, Down, or All Around?
No one knows...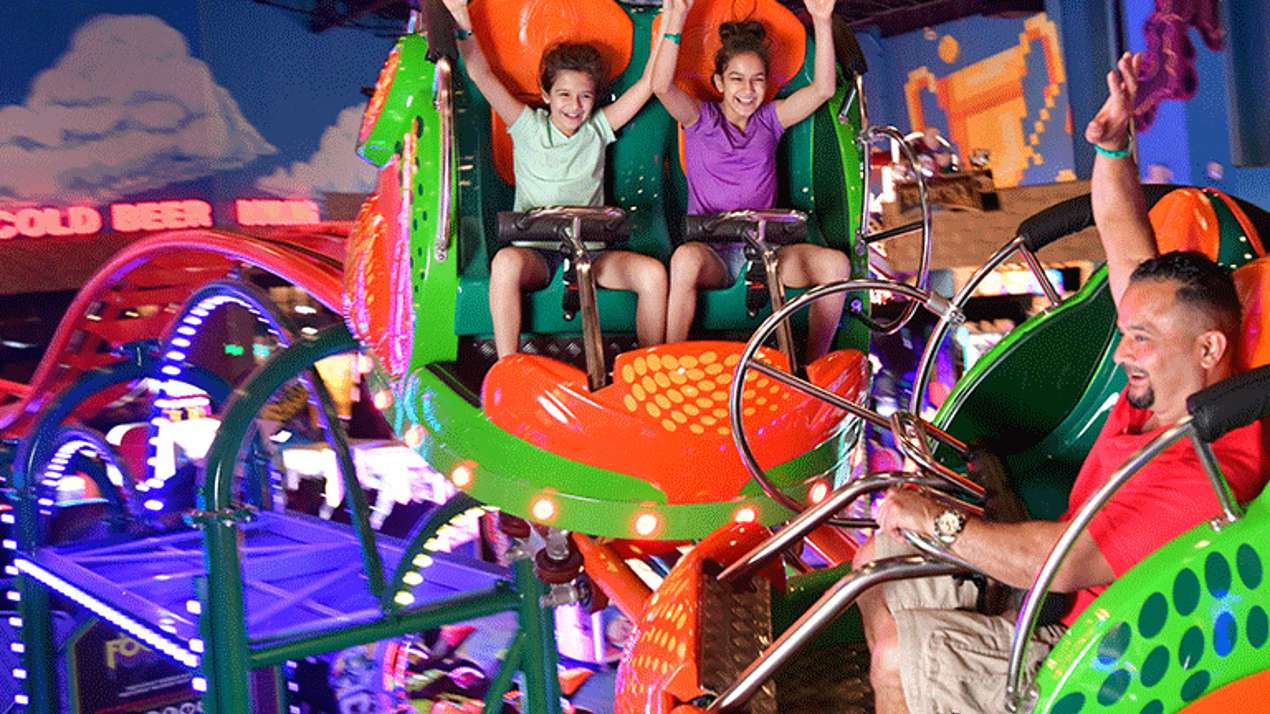 Scream'n Centipede
Put your hands in the air and scream! Or Don't! You won't want to when you experience this thrilling indoor roller coaster. Are you ready?
Try Not to Scream:
I dare you
Tarantok Basecamp
Now the little ones can challenge themselves on their very own ropes course. Closed-toed shoes required.
Being Little:
Just Got a Little More Awesome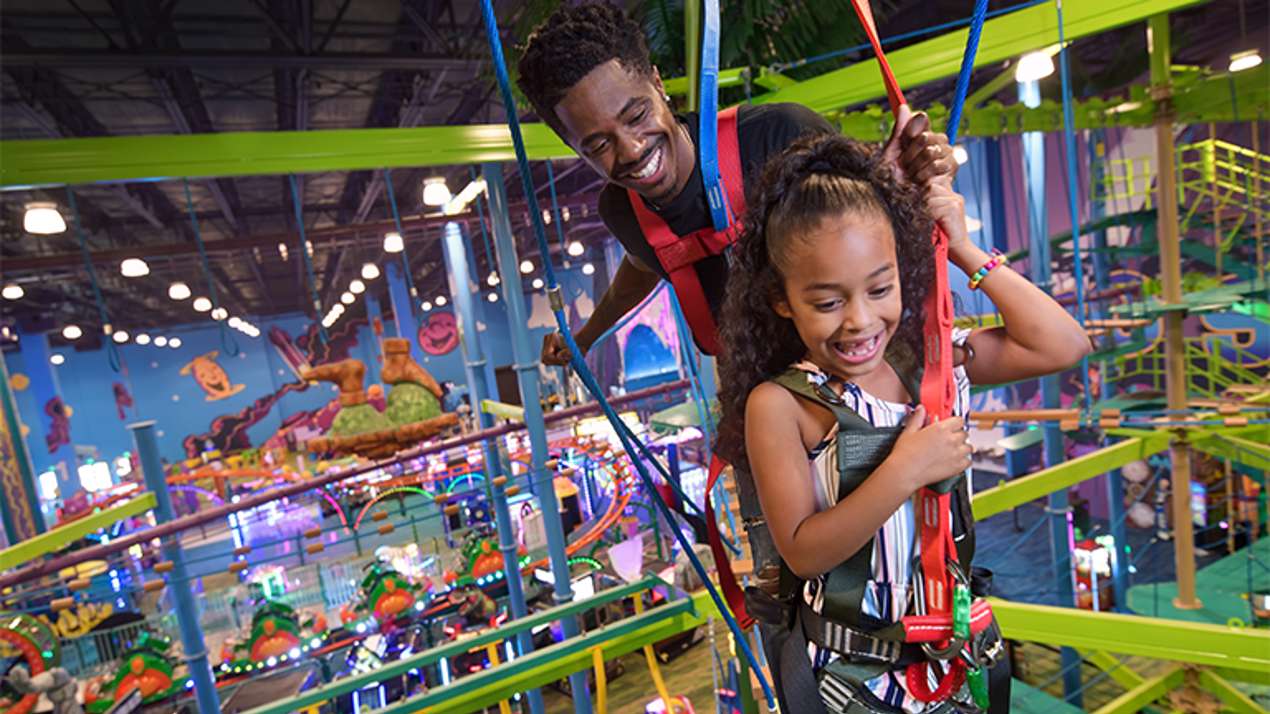 Tarantok Rise
Challenge yourself to the 30', 3 stories high Sky Trail® ropes course! Features dozens of individual climbing elements including a Zip Line! Closed-toed shoes required.
Don't Look Down:
Challenge Accepted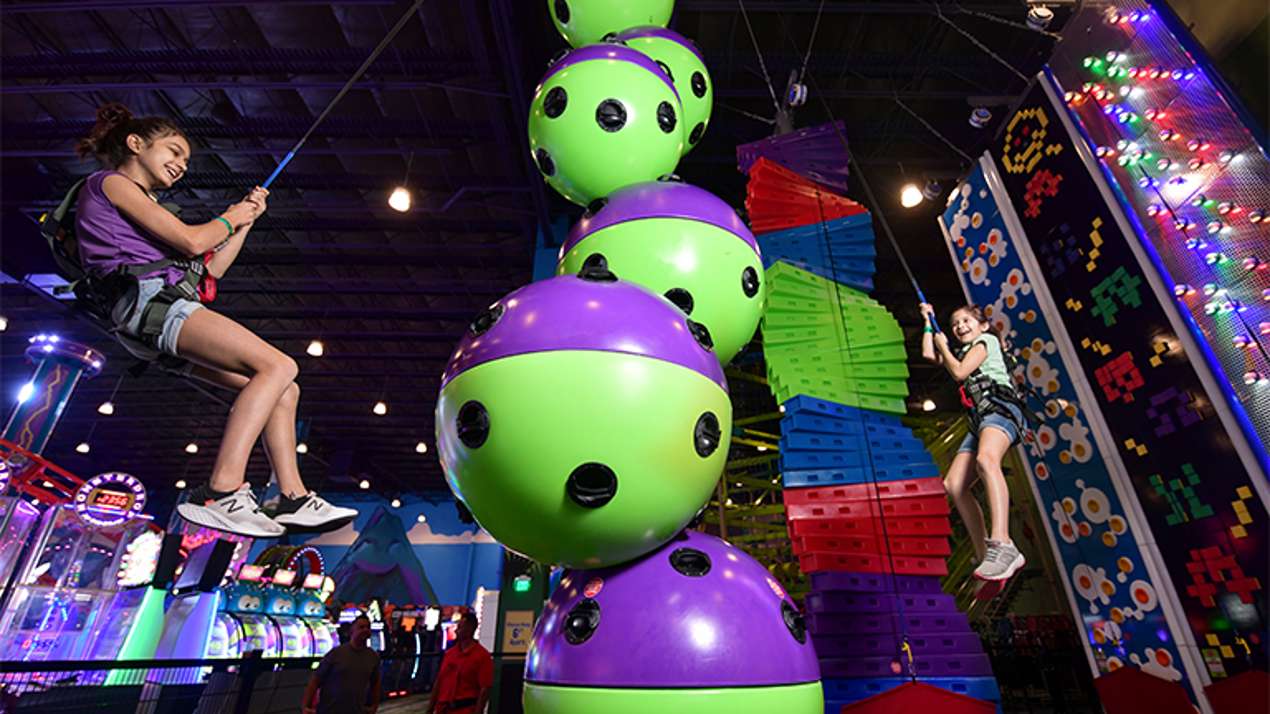 The Cliffs of Foolsanity
Test your resolve and determination to light up the board on Checkerplate, see if you have the spark on the Lightning Crack, or try to climb your way up to Cloud 9. Closed-toed shoes required.
Don't Look Down:
You've Got This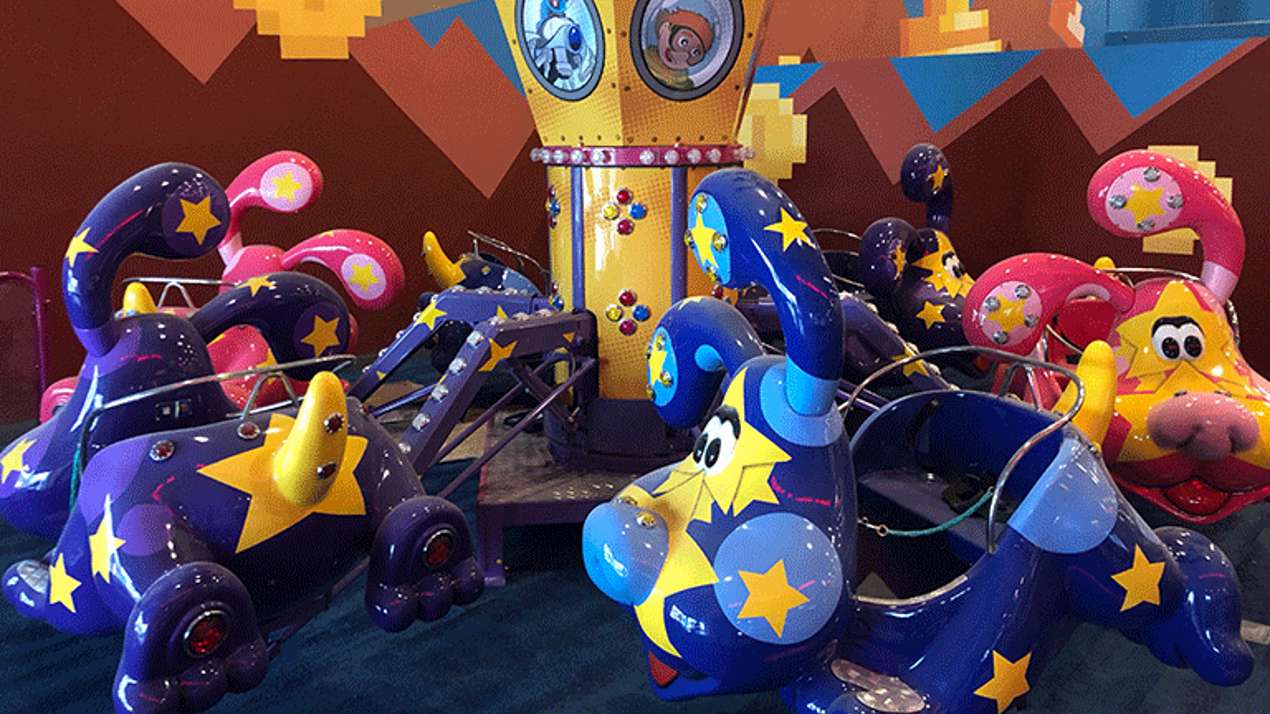 The Puppy Pulsar
Up and down and around and round! Find your Puppy Partner and get ready for this perfectly sized thrill... fit just right for the little ones.
Pick Your Favorite Pup:
Round and Around We Go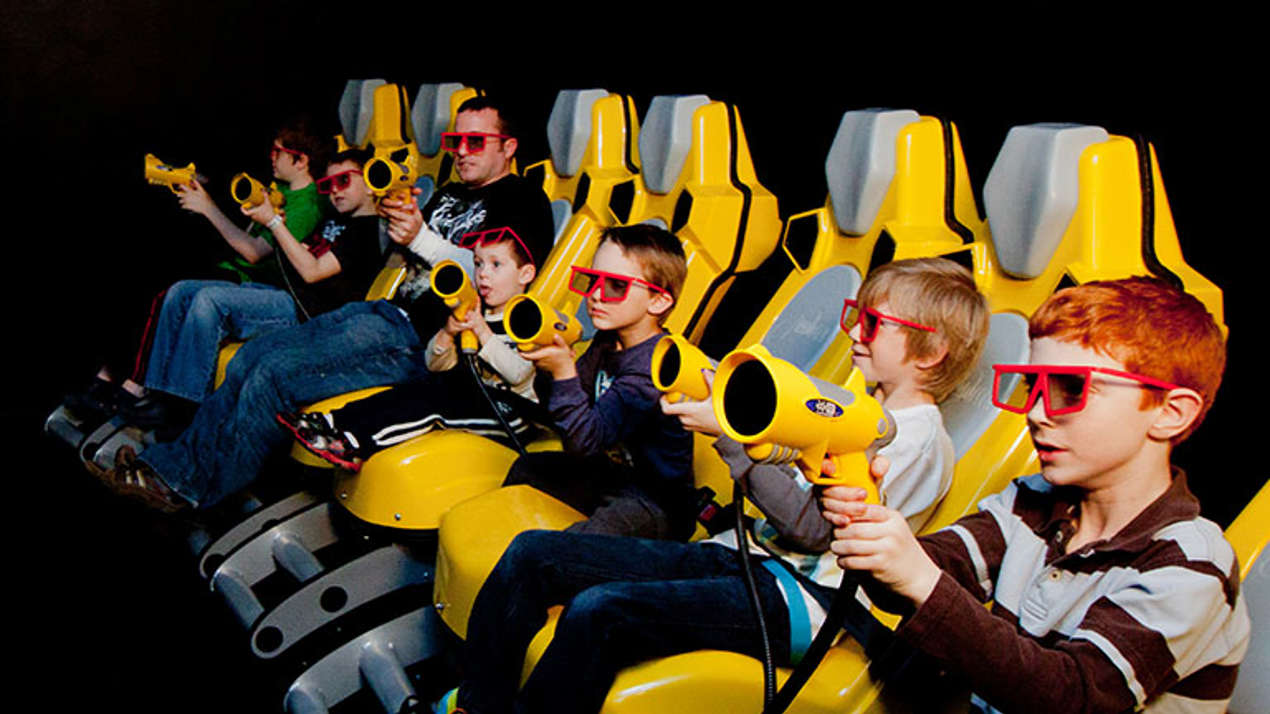 XD Dark Ride
Experience a whole new dimension of virtual reality at the NEW XD Dark Ride 5-D Theater.
5-D Theater:
That's A Lot of Dimensions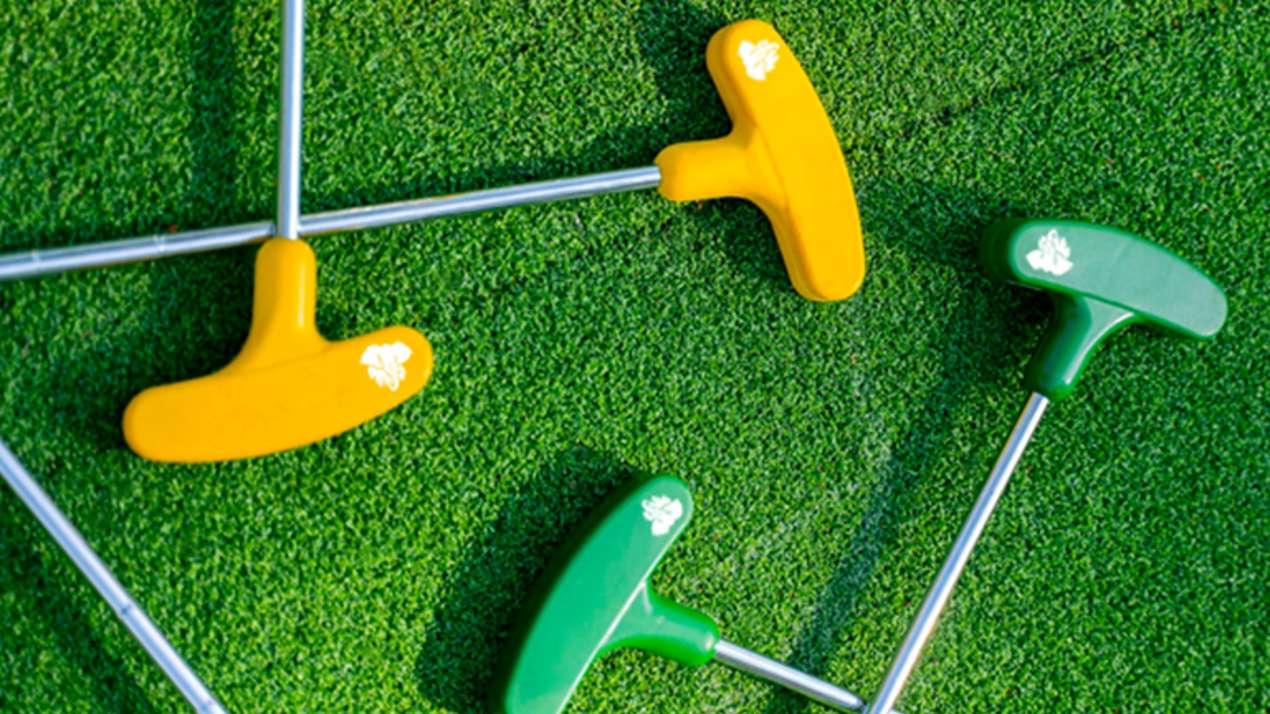 Jungle Mini Golf
We're taking Mini-Golf to the jungle! Tee off at our new mini-golf course!
Enter The Jungle:
Have fun mini-golfing in the wild!
Tom Foolerys Arcade
Tom Foolerys Adventure Park's arcade features the newest, biggest arcade games, simulators, and redemption games for the entire family. It's more than big – it's HUGE! Turn your game winnings into great prizes from our Prize Store!
See Details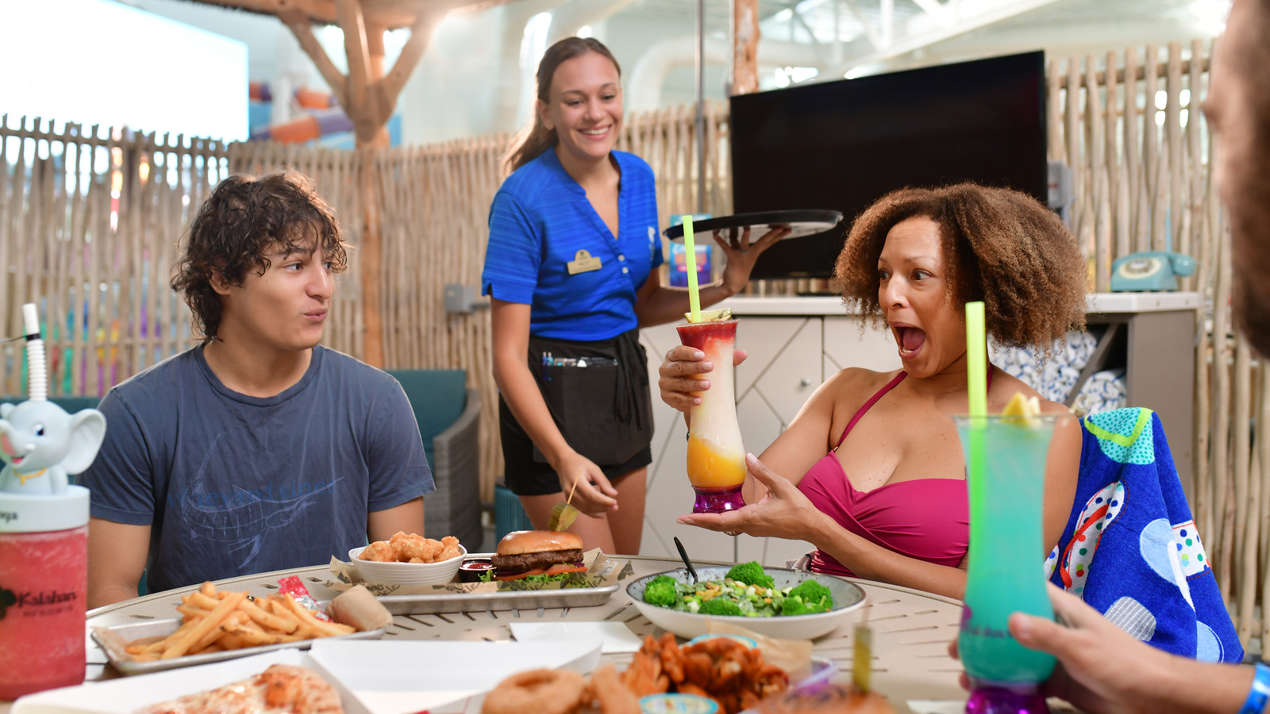 Cabana & Bungalow Rentals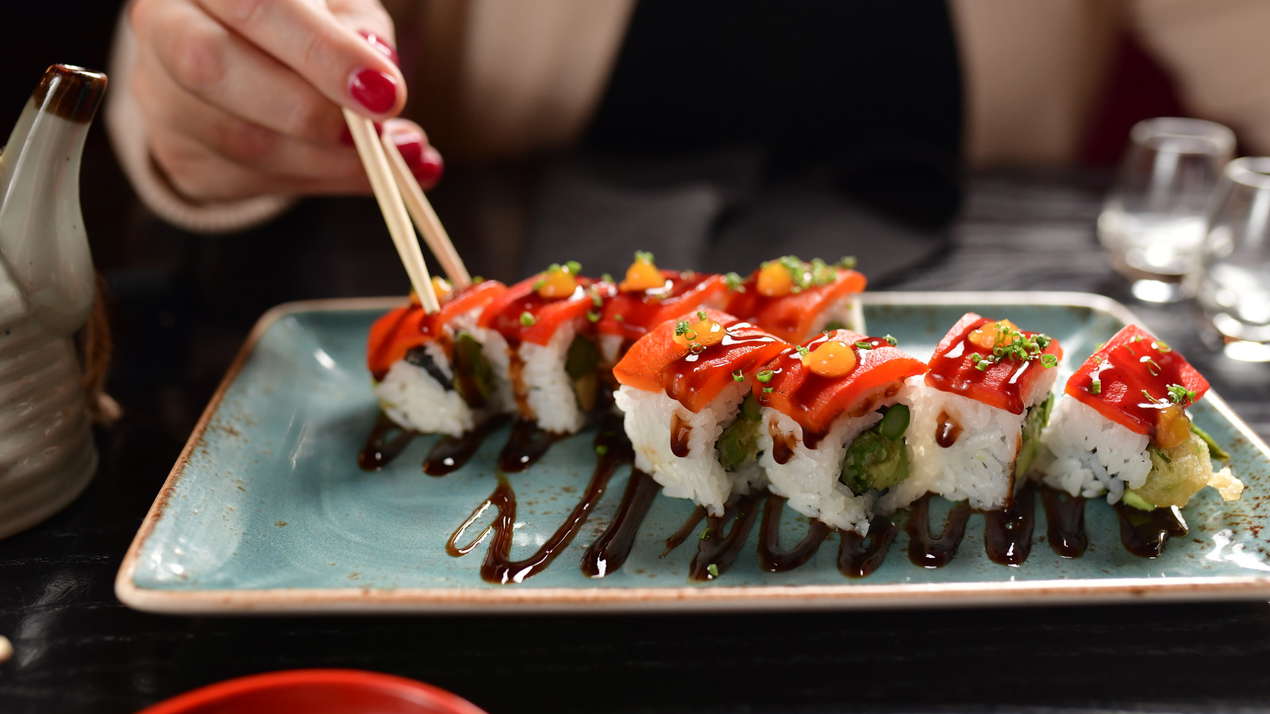 Double Cut Steak House
A signature steak house experience, featuring a menu with robust selections including steak (of course), seafood, chops, chicken and vegetables.
Details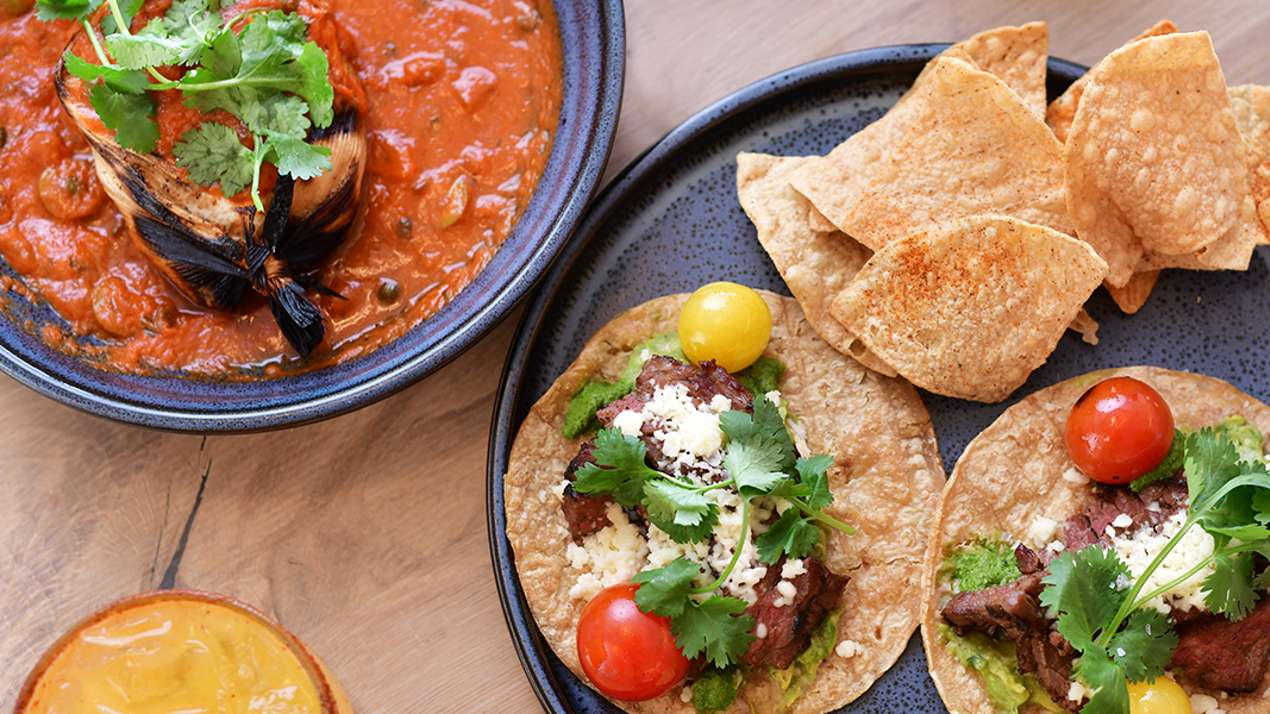 Cinco Niños
A modern Mexican & tequila bar encompassing all the resounding classic flavors as they intertwine with a sizzling plate of pure goodness.
Details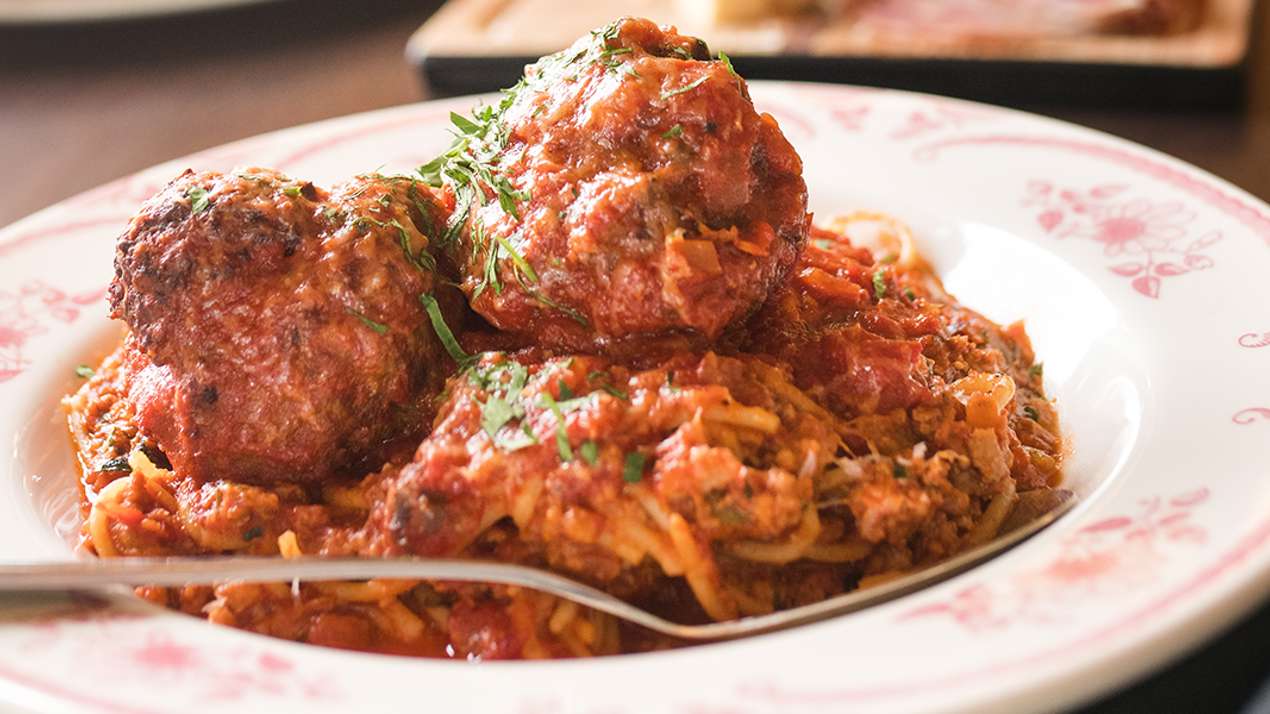 Sortino's Italian Kitchen
Whether you're dining with friends, gathering with colleagues or simply feeding the kids, Sortino's satisfies the appetite and soothes your soul with the flavors of Italy and the warmth of family. Featuring: Sortinos Italian Kitchen, Pizzeria Sortino, Sortinos Cafe & Gelato and Vinoteca wine lounge.
Details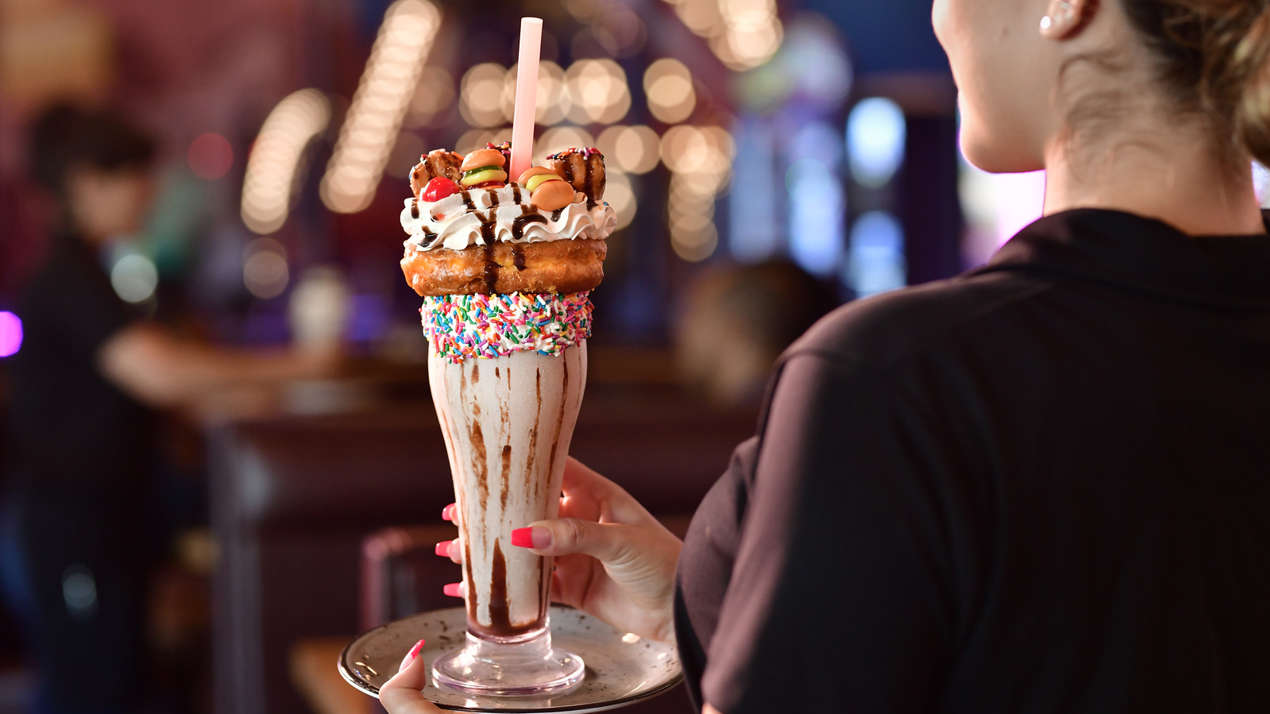 B-Lux Grill & Bar
Deliciously unique burgers and shakes handcrafted from scratch. Invite your family and friends to try a signature burger or indulge in one of our hard shakes. We are proud to offer fresh ingredients that are locally sourced.
Details
The Last Bite
Specializing in sweet indulgence, The Last Bite offers a number of ways to get your sugar fix. Either order a sweet treat for delivery to your room or stop by the main lobby for an assortment of sweet treats.
Details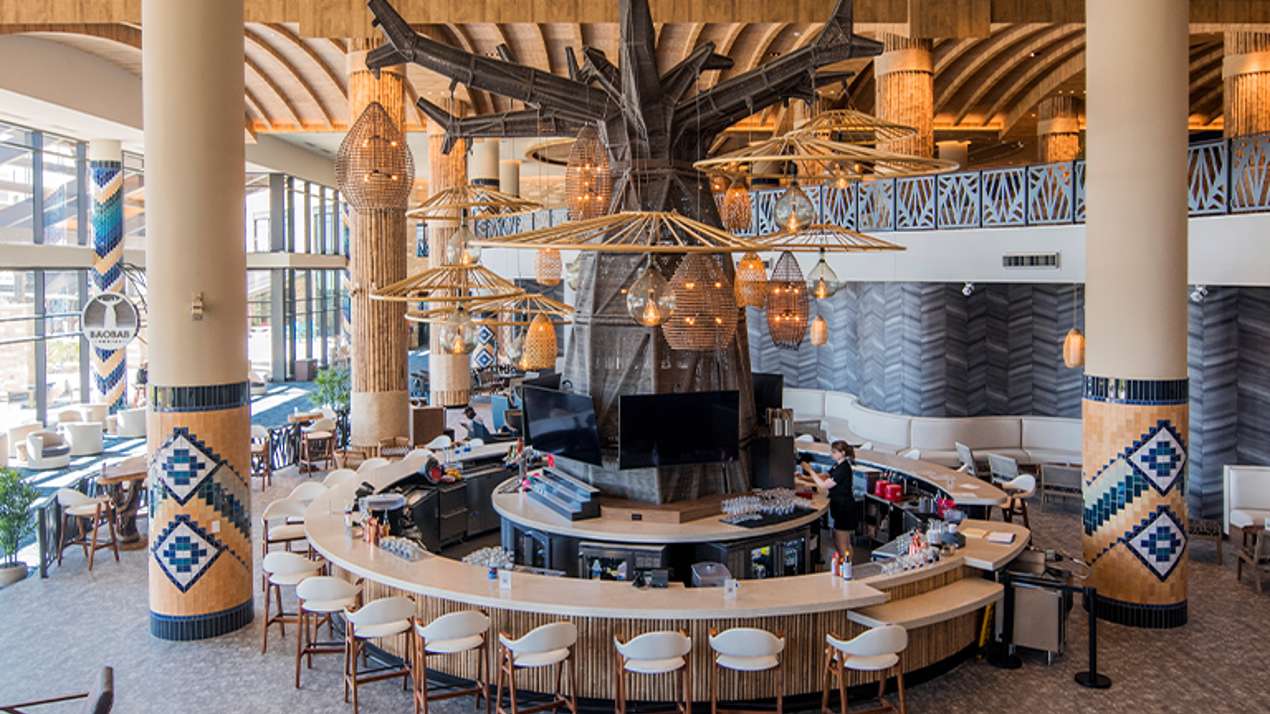 Baobab Social
Cocktails never tasted so good with the sunset glistening in the background. 
Details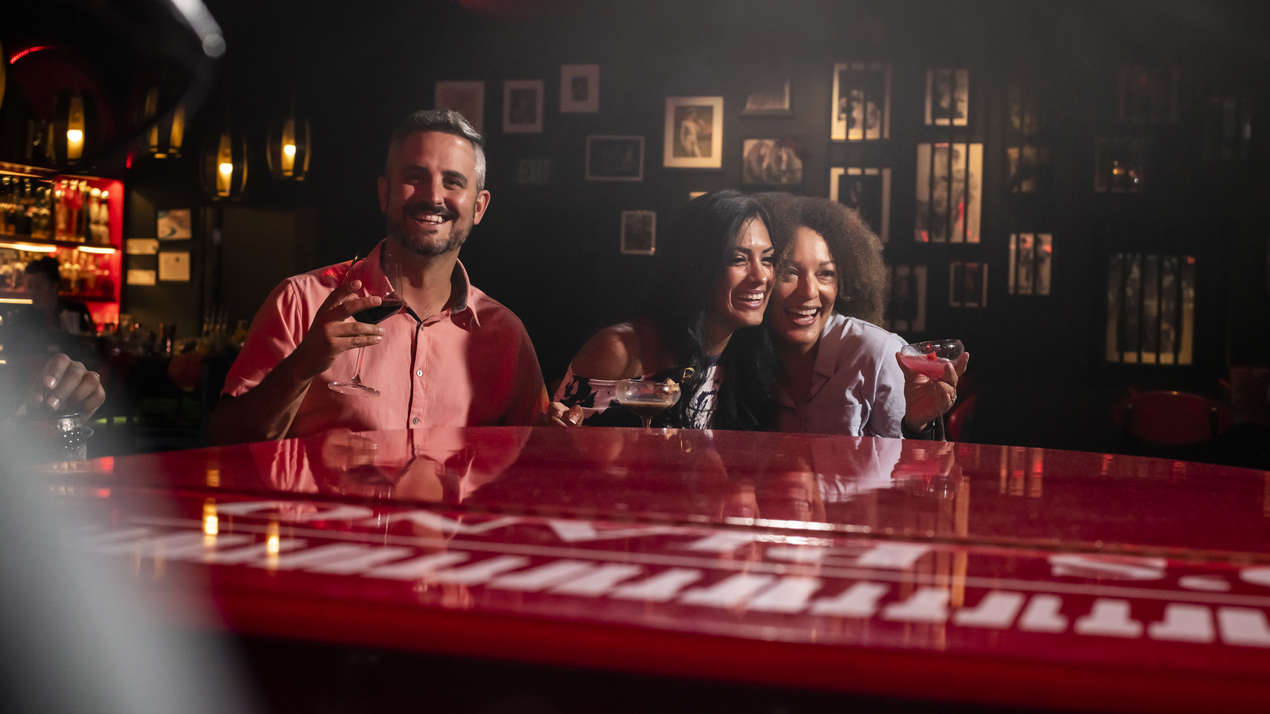 Redd's Piano Bar and Lounge
Redd's Piano Bar & Lounge offers fabulous entertainment nightly from a host of talented international performers. With new and exciting performers every month, Redd's brings you the best live music entertainment in Texas. Sit at the piano, sing along and be part of the show or sit back, relax with a great hand-crafted cocktail.
Details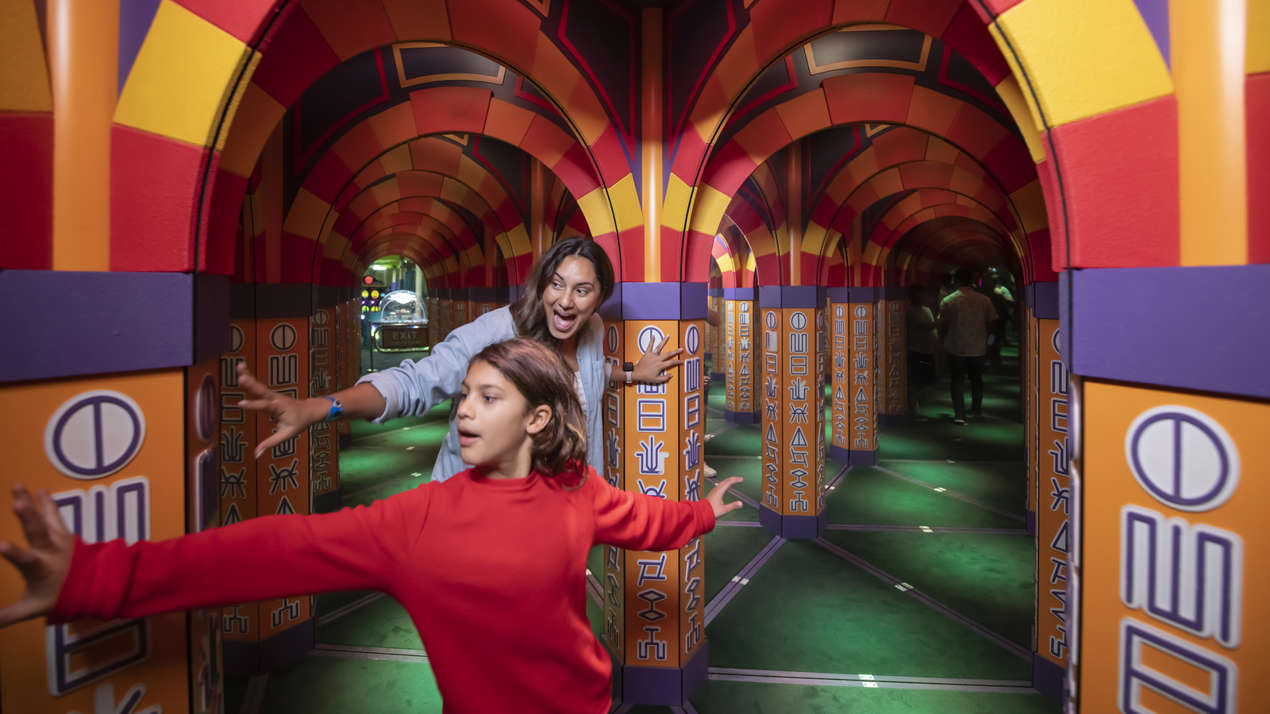 Fun & Unique Experiences for All
Two Unique Challenges, One Impossible Way Out. Choose from "Lift Yer Loot Saloon" or "Escape from Planet Obscura". The clock is ticking... will you make it out in time?
See Details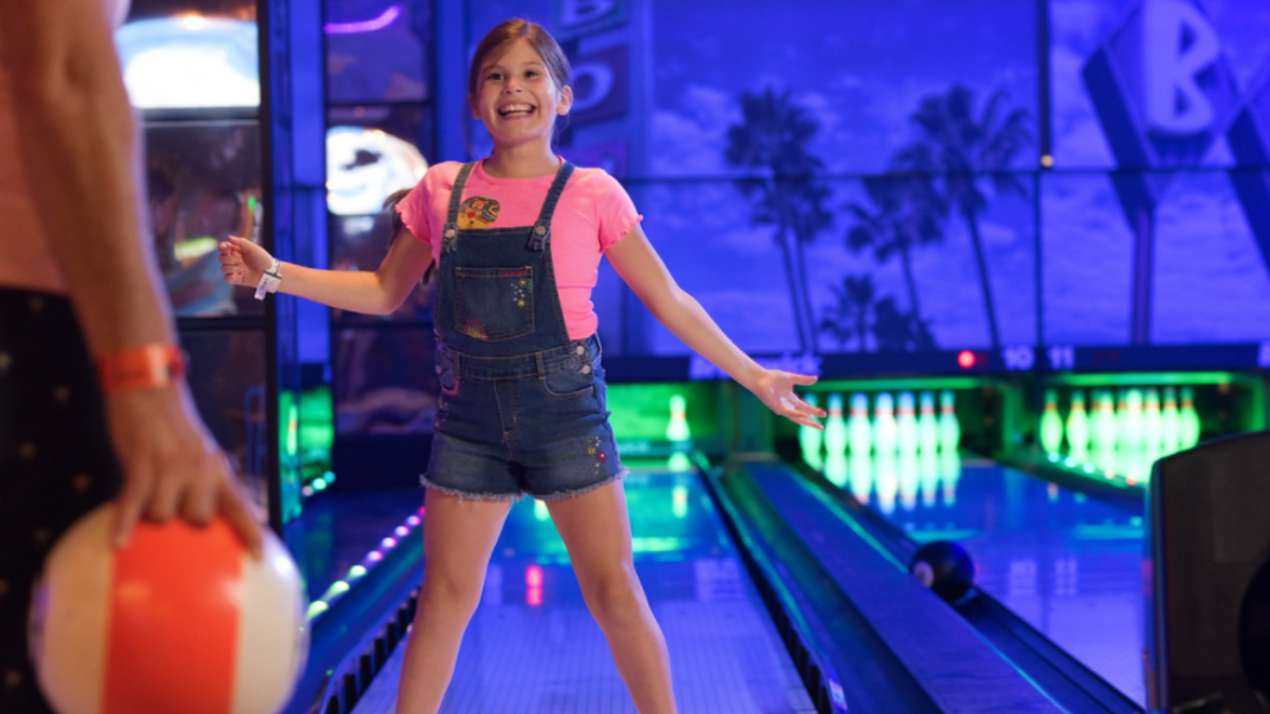 B-Lux Bowling
B-Lux Bowling features 12 lanes of state-of-the-art Brunswick® bowling.
See Details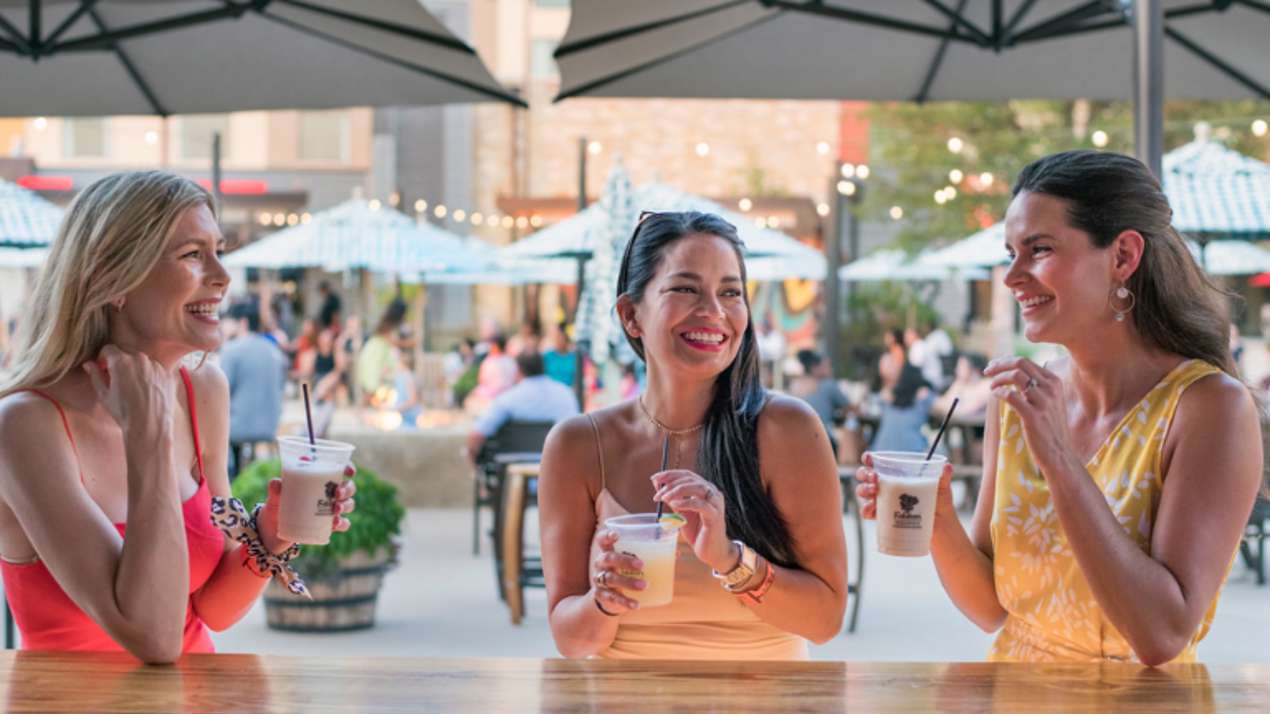 Amatuli
A visit to Amatuli is comprised of workshop tours, activities, information sessions and shopping. It's a marketplace where traditional African encounters are surrounding your every bit of exploration.
Details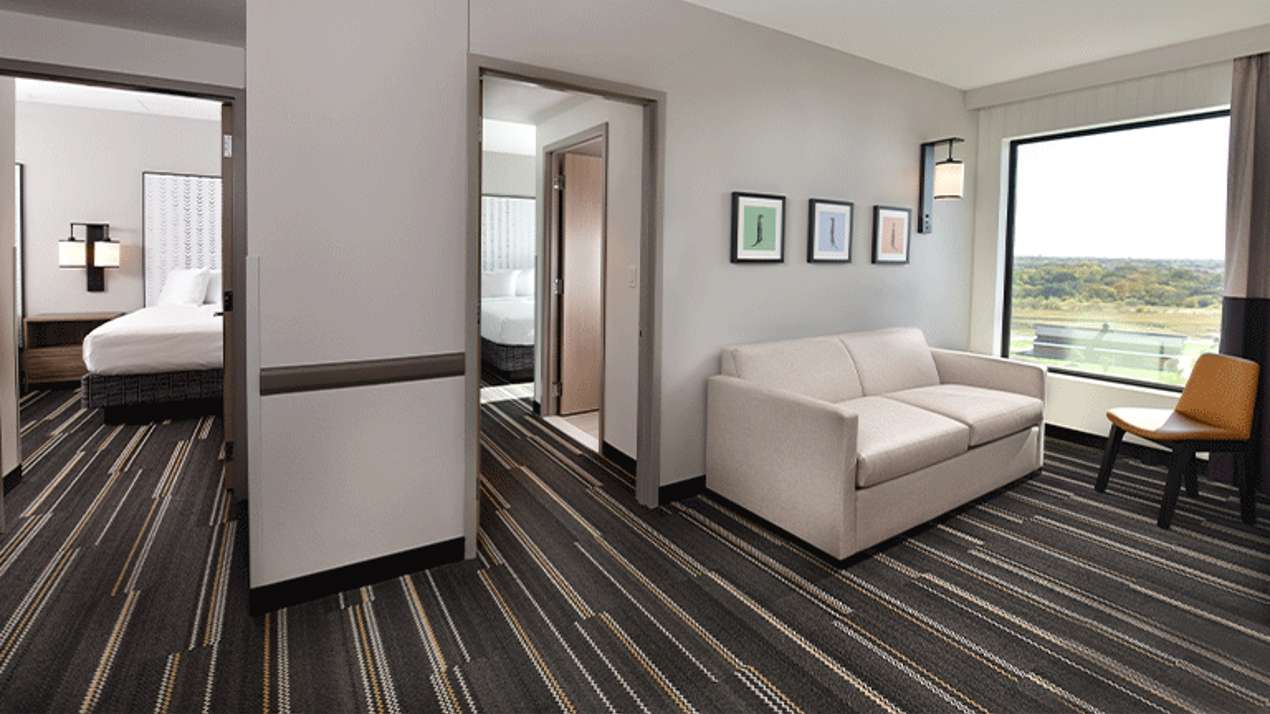 2 Bedroom 2 Bathroom Living Room Suite
This suite features one king bedroom, separate room with two queen beds, queen sofa sleeper, living room, three televisions and two full baths.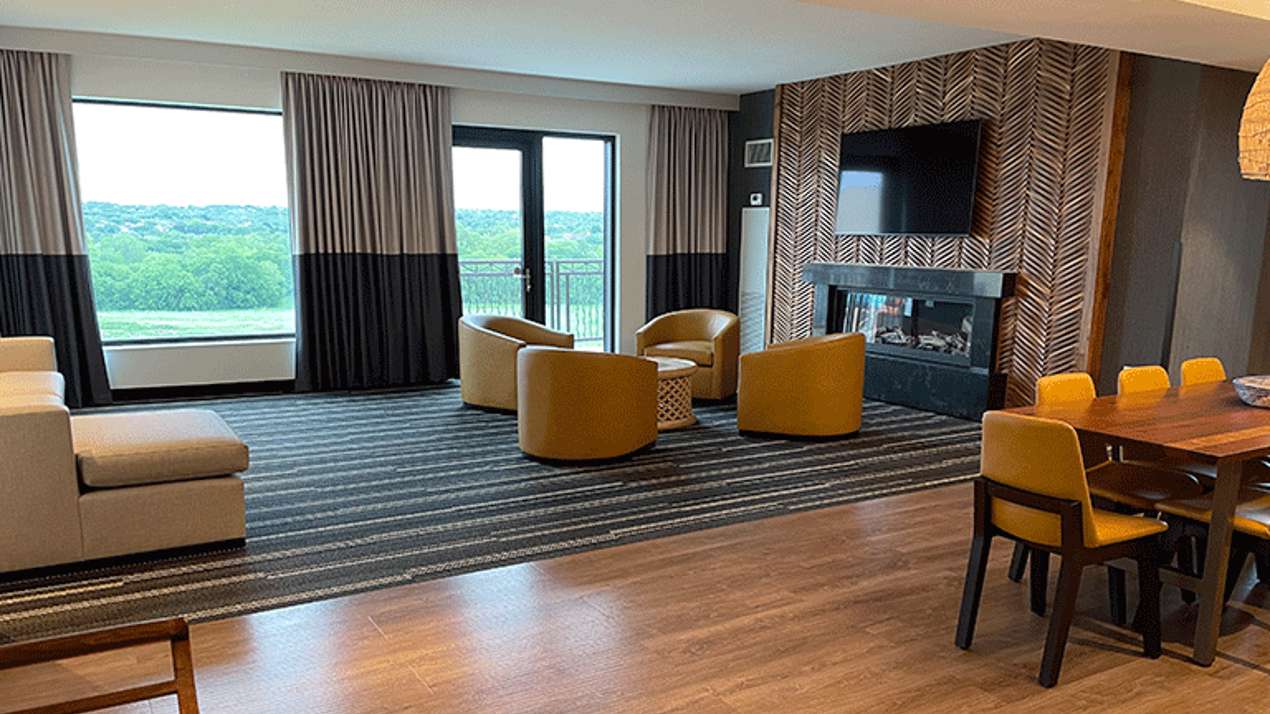 3 Bedroom Presidential Suite
This beautiful 3 Bedroom Presidential Suite features a fireplace, dining area, full-service wet bar, master bedroom with king-size bed and bathroom, 2 rooms with 2 queen beds and a living room with queen-size sofa sleeper and balcony.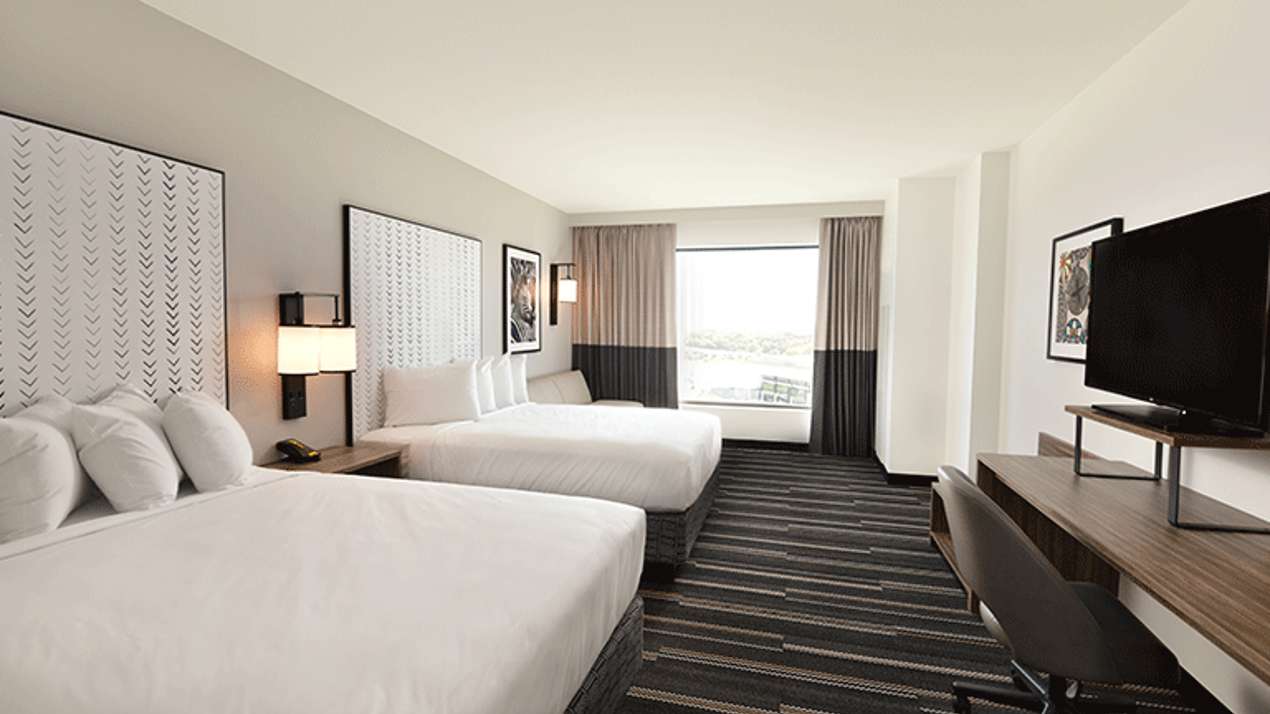 Double Queen Sofa
This room features two queen beds with a queen size sofa sleeper and a full bathroom with tub. For handicapped-accessible rooms, furniture configuration will be altered.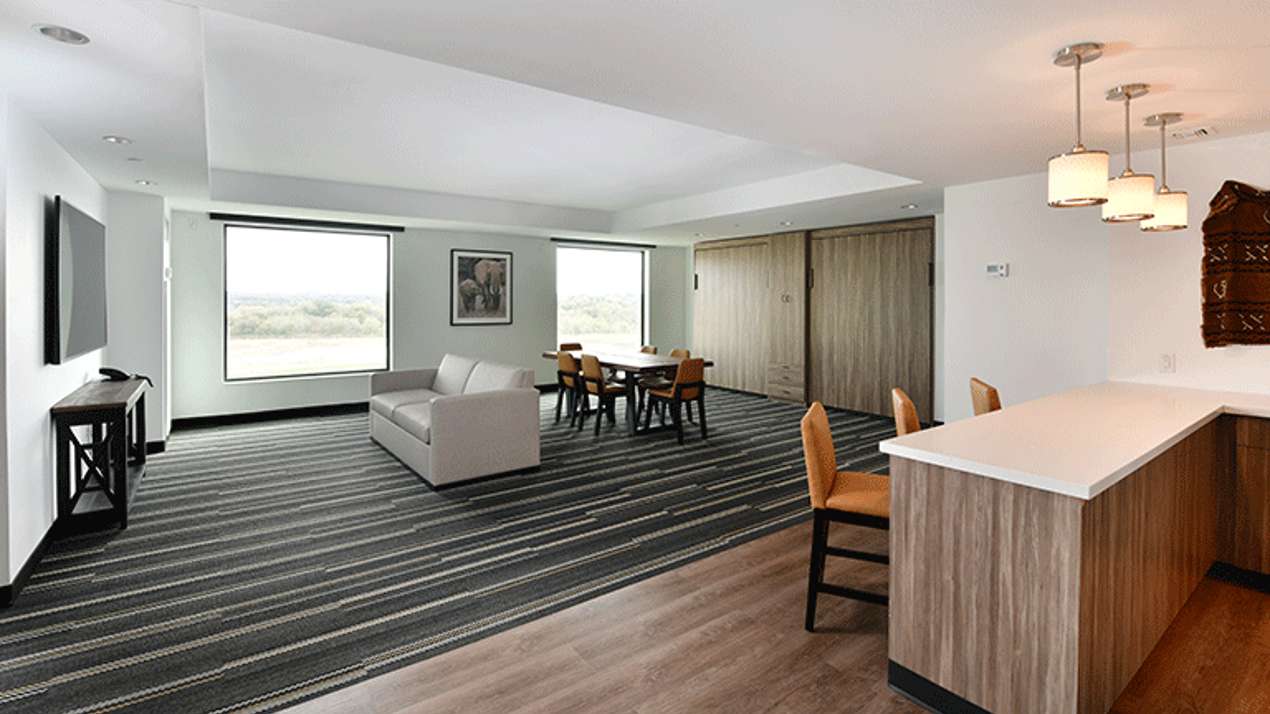 Hospitality Suite
This suite features two queen Murphy (fold-down from the wall) beds. Queen size sofa sleeper, dining table and wet bar.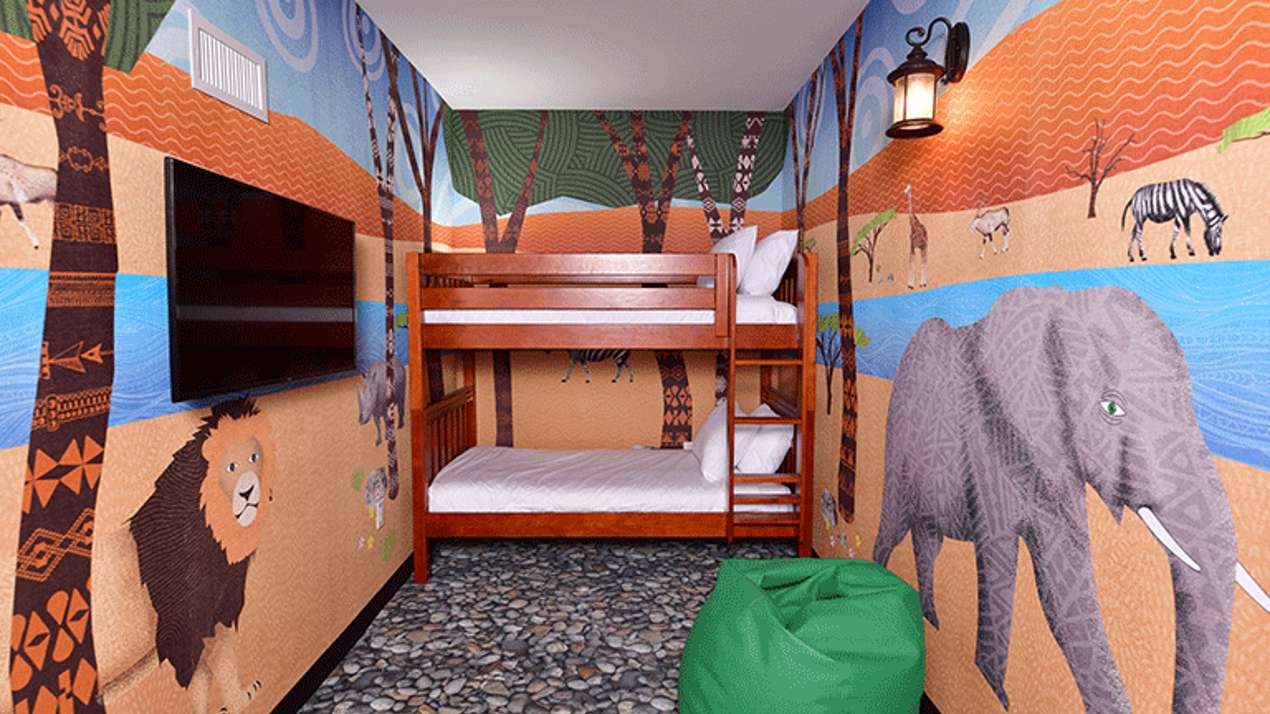 King Bunk Suite
King size bedroom, bunk room with one set of twin-sized bunk beds, queen sleeper sofa and a full bathroom with tub.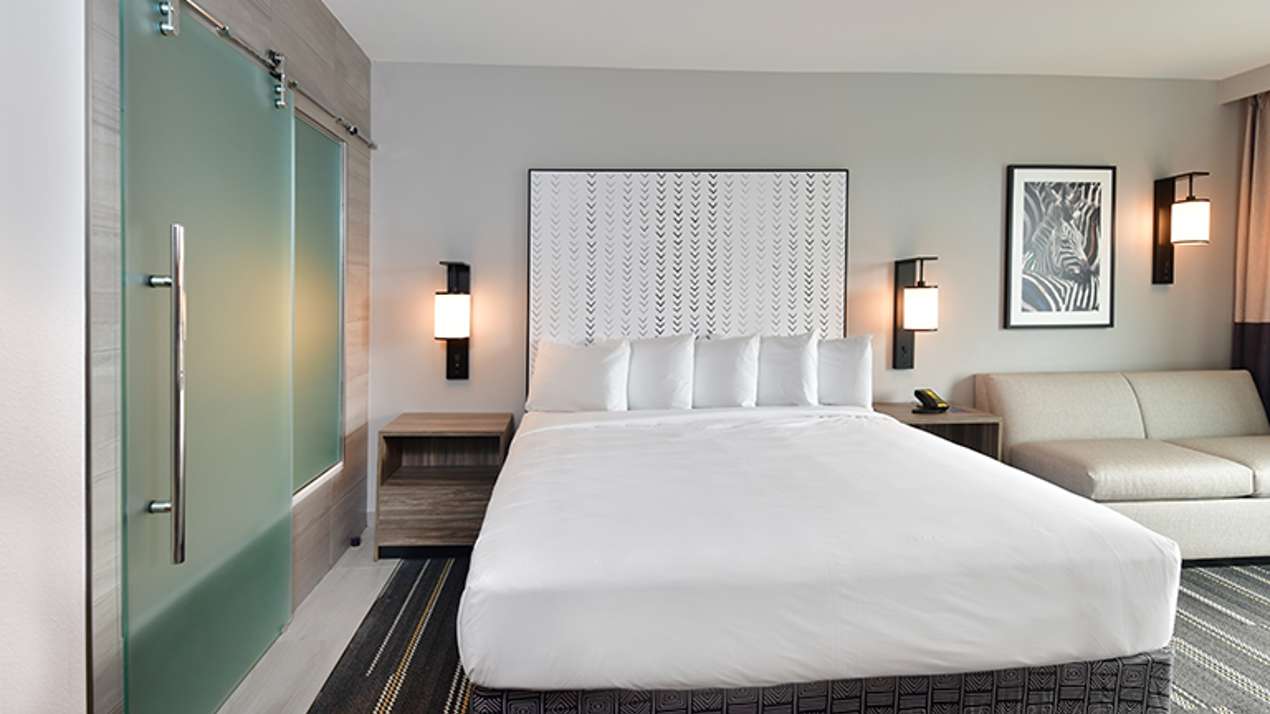 King Suite
King size bed, queen size sofa sleeper, and a bathroom with shower and air jet bath tub. Can be rented with adjoining Hospitality Suite.