Frequently Asked Questions
All guests are welcome to park throughout the available spots in front of the resort. All self parking is free. Follow signs for event upon arrival. We recommend parking closer to the Convention Center as that is the closest to Check-In.
In the foyer space just outside of Salon I. There will be a balloon arch showing where the VIP check in is located.
10AM Meet and Greet Brunch Hour with the Chefs.

11am – 12pm one-hour early event access for VIP ticket holders only.

Full event access from 12pm – 4pm.

 
Suites A-D, Convention Center Main Entrance.
No, you must be 21 or older to attend the festival.
A colored coded map will be provided showing the location of all vendors and entertainment. Guests will be requested to begin their experience in a specific-colored zone. This will disperse guests evenly throughout the festival to allow the best experience.
The event takes place throughout both indoor and outdoor resort spaces (weather depending.)
There will be grab and go options available as usual. However, the custom menus for the Food & (Not Just) Wine Festival will not change. All food items will be properly labeled for guests with restrictions/ allergens.
We offer complimentary valet for guests who dine at our signature restaurants. Should you choose to stay for dinner after the event, your valet parking can be validated.
Yes. It's on a first come first served basis and has quick 7-minute flights.
No, the Hot Air Balloon is ONLY available to festival attendees. However, the hot air balloon is first come-first serve for all festival attendees and will be available for 3 hours.
VIP:
10AM Meet and Greet Brunch Hour with the Chefs.
11AM – 12PM one-hour early event access for VIP ticket holders only.
Full event access from 12PM – 4PM. Includes tastings from every food and beverage vendor/station (100+ vendor/stations total). Souvenir wine glass.  
General Admission:
All event access from 12PM – 4PM. Includes tastings from every food and beverage vendor/station, 100+. Souvenir Wine glass. 
$125 Per Adult for General Admission. VIP is sold out. 
No, this event is non-refundable. 
Yes. Photo ID will be required at check-in.
Suites A-D just inside the Convention Center main entrance starting at 12PM.
Yes. Each of our restaurants will have a specialty menu for the day; we will have over 25 food options available.
Unfortunately you cannot purchase bottles on site.
No – many of the local vendors are not yet featured in our restaurants.
Yes, 85% of the vendors are local to Texas.
Generally speaking, yes – Kalahari is showcasing all the "Restaurant Style" food. There are some vendors such as Nothing Bundt Cakes, or The Fancy Marshmallow, that will be offering some small bites as well.
Nope! You are free to roam about as you please.
We have hotel rooms available and are happy to coordinate an UBER, Lyft, or Cab for you if needed!
Donation drop off will be located inside the Convention Center Main Entrance.
All artists are listed in the event booklet in the area they are performing.
Nerveless Nocks will perform on the Event Barn lawn at 12:30PM & 2PM.  
We have not yet set a date for next year's event, but more information will be coming soon!
Yes, there will be a variety of items to choose from, including T-shirts, bags, tumblers, etc. 
There will be retail locations in the Convention Center, Baobab, and the lobby. Items will also be in the Amatuli and Marrakesh store.
You can receive a complimentary chair massage at the Spa Kalahari table, located by the spa elevator. 
Anyone that schedules a spa appointment will enter a raffle for a spa products basket. 
A spa associate will be able to give you a tour of Spa Kalahari.
Spa Kalahari is launching its own signature scents! The signature scent is Saffron and Tobacco, and will be available as soon as mid-October. Candles are available now!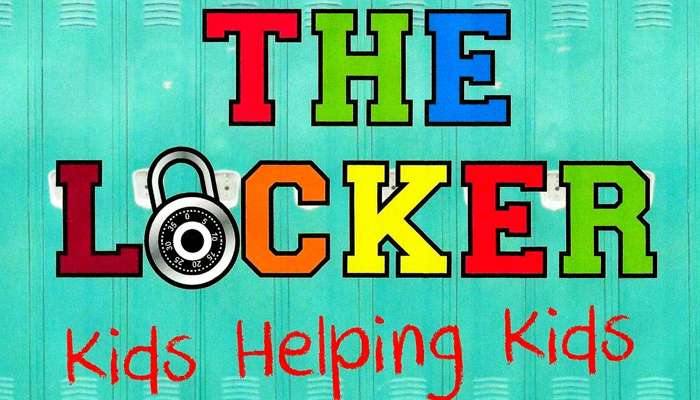 Help Us Support Our Youth
The Kalahari Food & (Not Just) Wine Festival has partnered with The Locker to support our local youth. Festival attendees are welcome to support the community by donating items for kids in need.

Items include: Hoodies (All sizes: Youth XS to Adult XXL), Crewnecks (All sizes: Youth-Adult), Joggers (All sizes, Male/Female), 2-in-1 Shampoo/Conditioner, Deodorant (Men's/Women's), Soap/Body Wash, Underwear (All Adult Sizes), and Tampons/Pads.